Jamiu Yisa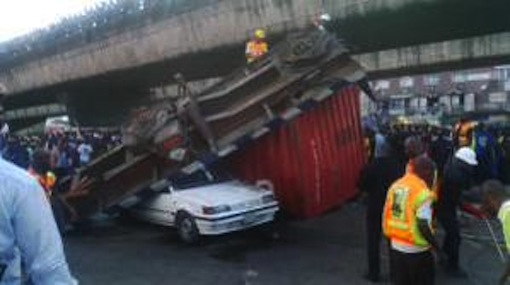 The Lagos State Police Command has confirmed the arrest of the driver of the Ojuelegba killer trailer that fell off the bridge on Wednesday evening.
The 40-feet container carrying building materials, iron doors and cements, fell off the bridge and trapped two vehicles.
While the occupant of the white Nissan Sunny with number plate, DG 750 LND, escaped unhurt, the three passengers in the black Toyota Camry, with number plate, LSD 532 CN, were crushed to death.
The command also identified the victims of the accident as Abubakar Suleiman, Kamilu Umar and Umaru Suleiman.
It said that the driver of the truck is currently been detained at the Surulere Police Division.
It was gathered that the only survivor of the accident, Lasisi Akeem, had yet to show up at the police station to write statement.
The Police Public Relations Officer, Patricia Amadin, also said the relatives of the victims had already come by the station.
"The driver has been arrested and is in custody. But the survivor, whose statement is vital, is yet to show up at the station to write a report."
She said, "The driver of the truck has been arrested, and he is currently at the Surulere Police Division.
His name was however withheld from the media.
The Director of the Lagos State Fire Service, Rasak Fadipe, said the men were between the ages of 30 and 55 years.
The General Manager of the Lagos State Emergency Management Agency, Michael Akindele, said, "Immediately we finished clearing the debris yesterday, we took the corpses to the mortuary.
"We are already in contact with the families of the victims and the governor has also sent representatives to condole with them," he said.