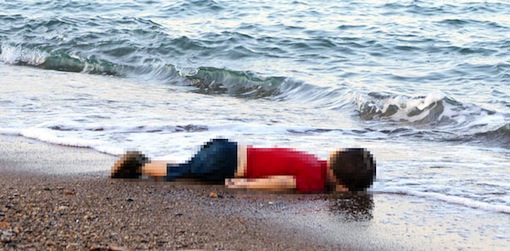 Bodrum (Turkey) (AFP) – The father of a three-year-old Syrian boy, whose body was washed up on a Turkish beach in an image that shocked the world, said Thursday his children "slipped through my hands" as their boat was taking in water on its way to Greece.
Abdullah, whose surname is given by Turkish media as Kurdi but sources in Syria say is actually called Shenu, lost his three-year-old son Aylan, four-year-old son Ghaleb and wife Rihana in the tragedy.
"I was holding my wife's hand. But my children slipped through my hands. It was dark and everyone was screaming," Abdullah Kurdi told Turkey's Dogan news agency of the moment the dinghy began to sink.
"We tried to cling to the small boat, but it was deflating."
Abdullah cut an inconsolable figure sitting outside the morgue in Bodrum on Thursday, staring blankly into his mobile phone as he waited for the coffins of his family to be loaded onto a municipal van, an AFP photographer reported.
Twelve Syrian migrants drowned on Wednesday when two boats sank in Turkish waters as they were heading towards the Greek island of Kos, in the latest tragedy to hit migrants in the Aegean.
But attention has focused on three-year-old Aylan, whose tiny body was photographed washed up on a beach in the resort of Bodrum in an image that quickly became a viral symbol of the tragedy of refugees.
In a second image, a Turkish security officer cradles the boy in his arms.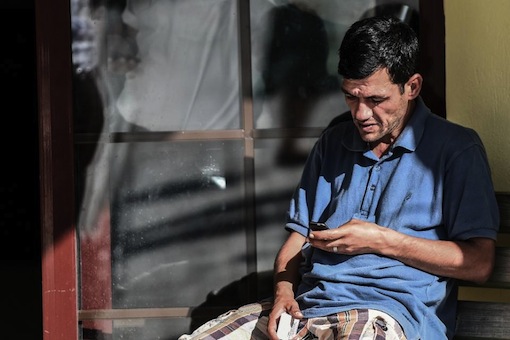 Abdullah had been trying to cross along with his family and up to three other Syrians from the flashpoint town of Kobane that last year was the subject of a months-long battle between Kurdish militias and jihadists, Turkish media said.
The Ottawa Citizen newspaper reported that the family had ultimately been trying to emigrate to Canada.
It said his sister Teema — a Vancouver hairdresser who emigrated to Canada 20 years ago — had sponsored a refugee application that Canada's immigration authorities rejected in June.
"I was trying to sponsor them, and I have my friends and my neighbours who helped me with the bank deposits, but we couldn't get them out, and that is why they went in the boat," the newspaper quoted Teema Kurdi as saying.
However Canada's immigration department said there was no record of an application from Abdullah Kurdi and his family but only an incomplete form from his brother Mohammed Kurdi for his immediate family.
The administration has found "no trace of any request received from Abdullah Kurdi and his family," the Canadian Immigration and citizenship department said in a statement.
– 'Tried to swim for the shore' –
Abdullah said the boat started to take in water shortly after it set off in the dead of the night, sending the migrants on board into a panic.
"The boat started to take in water 500 meters (0.3 miles) from the shore. Our feet were wet," he said.
He tried to take hold of his children and his wife as he clung to the capsized boat, but they were quickly washed away.
"I tried to swim to the shore with the help of the lights but couldn't find my wife and children once I was there. I thought they got scared and ran away," he said.
"When I couldn't find them in our meeting point in the city (Bodrum) where we normally meet, I went to the hospital. And got the bad news."
He confirmed the family had wanted to go to Canada but now only wants to return to Kobane to bury his family.
A hospital official in Bodrum told AFP that the bodies would be flown to Istanbul late Thursday and then to the Turkish border town of Suruc before reaching their final destination of Kobane.
Mustefa Ebdi, a journalist in Kobane on the Turkish border in northern Syria, said the family had been living in Damascus up to 2012 but been forced to flee the war's instability multiple times.
After repeatedly moving back and forth, they decided to move to Europe through Turkey when in June jihadists re-entered the flashpoint town, holding hostages in a two-day stand-off that left more than 200 civilians dead.
Ebdi said they stayed in Bodrum for one month, saving money and borrowing from relatives for the journey.
"They left to try to find a better life."
– 'Three attempts to cross' –
Abdullah was quoted as saying by Dogan that the family had paid people-smugglers twice in the past to travel to Kos.
As a result of their previous experiences they had decided to embark on the final fatal journey independently.
As a result they, and the other Syrians from their hometown, "obtained a boat by our own means and tried to cross to the other side."
Turkish authorities arrested four suspected people smugglers — Syrian nationals aged between 30 and 41 — over the twin accidents that killed Aylan and the 11 others.
"The body of a three-year-old child who died on a boat in the Mediterranean Sea carrying refugees washed up on our shores," said Turkish President Recep Tayyip Erdogan.
"Will the whole of humanity not account for this three-year-old-child on our shores?" Erdogan asked.
Load more