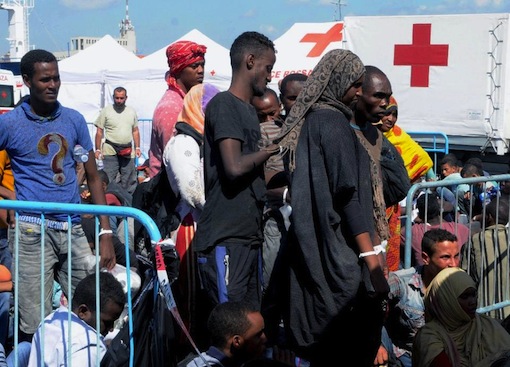 Reuters – Spanish police have arrested the suspected organiser of a ring smuggling migrants from Western Sahara to the Canary Islands and the captain of a trafficking boat from among a group of migrants recently arrived in the islands.
The 40-year-old Senegalese man was part of a trafficking organisation based in Laayoune in the disputed territory of Western Sahara that chartered boats to take migrants to the Spanish islands which lie off the coast, police said.
Migrant arrivals in the Canary Islands, which peaked at 32,000 in 2006, have fallen sharply due to stronger interception measures and Spanish return agreements with Mauritania and Senegal but some migrants still attempt the voyage.
A boat containing about 40 African migrants including a toddler girl landed in Gran Canaria on Tuesday.
Spain is one destination for the hundreds of thousands of refugees from wars in the Middle East, along with economic migrants fleeing poverty in Africa and Asia, who have braved the Mediterranean Sea and land routes to reach the European Union.
Police said the alleged organiser, who was not named, hid migrants in safe houses in Western Sahara and then charged them between 800 and 1,500 euros ($890 and $1,670) for the dangerous voyage to the Canary Islands, which could take up to 11 days.
In July, he joined 33 other migrants on one of his gang's boats for the trip to the Canaries, a police statement said.
Some of the passengers on the boat were Nigerian women who had been sent to Spain for sexual exploitation, it said.
On arrival in the Canaries, the organiser and the captain of a migrant boat, a 24-year-old Senegalese man, mingled with migrants in a holding camp, passing themselves off as ordinary migrants, the police said.
Police investigations revealed his dentity after he gave a false name. Then, other migrants at the holding camp, who had been intimidated into silence, pointed out the boat captain, who was also arrested, the police said.
The police said the traffickers sometimes beat migrants to make them get on the ramshackle boats and that eight people had died on another of the organisation's vessels before Spanish Sea Rescue saved the 13 survivors.

Load more