Rasak Musbau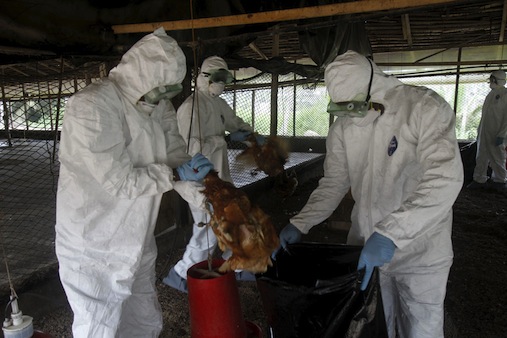 Poultry production is an important and diverse component of Nigeria's agriculture. Poultry products including eggs, chicken and turkey meat are a healthy part of the diets of most Nigerians. They are a major source of high protein representing about 36.5 percent of the total protein of Nigerians. In Nigeria poultry production can be divided into small, medium and large-scale production with 25 percent being provided by commercial farms, 15 percent semi-commercial and 60 percent from backyard. Poultry production offers the quickest returns on investment outlays in livestock enterprise by virtue of its short gestation period, high feed conversion ratio alongside being one of the cheapest, commonest and best sources of animal protein in the country. Unarguably, it is the most efficient and cost-effective way of increasing the availability of high-protein food, as eggs are known to provide the most perfectly balanced food containing all the essential amino acids, minerals and vitamin.
The importance of poultry products to healthy and balanced living is so enormous that no serious nation will overlook anything that threatens its business and consumption. Among the factors that pose threat to poultry industry in the country are importation of poultry products, high cost of production and poultry diseases. Poultry diseases remain one of the major threats to poultry production in Nigeria. A disease outbreak could result in severe economic losses within the shortest possible time before its medicated recovery is ensured. The major diseases are the Newcastle disease, Avian pox, Avian Influenza, Infection Bursal Disease, Colisepticeamia, Coccidiosis, worm infestation with Avian Influenza being the most lethal of all.
Avian influenza, otherwise known as Bird flu, is a form of infection caused by a virus that affects birds (fowls, ducks, etc) and leads to their death. The Bird flu epidemic scenarios include bird to bird transmission of virus, Bird to Human transmission and God forbid Human to Human transmission. It is not a moderate disease and fears remain that it can lead to pandemic. The first case of avian influenza was reported at Kaduna State in February 2006. Till the battle was won in 2008, more than 20 states were affected with attendant economic loss, agony and misery.
Sadly, with many challenges already troubling the country coupled with economic meltdown resulting in many states' inability to fulfill their essential responsibility, the disease has resurfaced again in about 18 states of the country, densely populated Lagos and Kano states inclusive. It stems from our attitude of 'let us wait for the signs before we believe what government says'. One only hopes Nigerians will not be lukewarm about the risks and danger of this unwelcome visitor that has just resurfaced. Though none has been able to explain how it resurfaced after seven years that we thought the battle has been won, it was presumed it cannot be unconnected with migratory birds and illegal poultry importation.
Currently, the biggest threat that bird flu poses to Nigeria is an economic one. If the scenario where people became irrationally afraid and stop consuming chicken in 2007 is repeated, it can spell doom for poultry farming. Just as the animal health component of the Avian Influenza Control Project has been reactivated, it is better to also reactivate the communication component now as information is key to disease control. Communication component needs to start working simultaneously as animal health workers go about passive and active surveillance of farms to collect samples and other needful. Accurate and effective dissemination of information is quite vital, especially now that the situation is manageable and containable. At this stage, it is important that Nigerians understand that bird flu is currently a low risk health threat and that one cannot get the flu from properly cooked chicken.
Now that the Ember months are here, there is need to reactivate public enlightenment on practices that pre-dispose people to bird flu disease as some birds such as ducks can actually get and spread the disease without ever showing signs of illness. People need to be reminded about signs and symptoms of bird flu. There is need to harp on need for behavioural change from harmful traditional practices that involve the use of birds and their blood. Public education should commence for the public to be conscious of the fact that it is only infected birds, their feathers, faeces and other wastes that pose risk, to avoid needless fear. Appropriate authority should do the needful on importation of frozen chickens and illegal routes of poultry production importation. It is bad enough that importation of the products impact negatively on local farmers, but it would be a disaster if we import bird flu to add to the myriad of issues competing for attention in the country.
Since the majority of poultry farmers are backyard farmers with low level of poultry disease management, surveillance and education should now be a daily affair. Mentality of an average farmer, as we can infer from the 2006-2008 experience, is to sell at lower price when they experience sudden sickness and death of chickens rather than report strange signs of sickness in birds to appropriate authority.
Bird flu, just like other poultry disease management, involves taking steps to ensure good hygiene and increasing the standards of cleanliness as well as containment to reduce the risk of introducing disease into a flock. For poultry farmers, application of standard security measures is vital in protecting poultry birds from the disease. The focus on security is to maintain and improve the health status of animal and prevent the introduction of new disease pathogens by assessing all possible risks to animal health. It is a standard disease prevention practice to ensure that poultry farms are distanced from public roads, from pond or lake and has a gate that restricts vehicle access. If a vehicle must enter a farm, it should be ensured that such vehicle is disinfected.
Also, it is recommended that government should train poultry farmers on regular basis based on biosecurity, disease prevention and the adoption of modern husbandry practices. Mitigation option through the use of livestock insurance policy is very low among poultry farmers in Nigeria. Government should formulate a policy that will make livestock insurance more affordable to poultry farmers by increasing the present level of subsidy granted for livestock insurance cover. Also, there should be adequate dissemination of knowledge on the benefits of livestock insurance to increase the level of participation of poultry farmers in the use of livestock insurance to militate against disease outbreak in poultry enterprise.
Now that the disease is still under control the best drug we can administer right now is information, education, enlightenment and communication. A healthy bird is safe and good to eat. Egg and chicken could help boost the life expectancy of Nigerians. But family, restaurants, hotels and super markets in the country noted for fast food business that involve the sale of products like chicken, burger, egg bonce among others should be on alert.
—Musbau is of the Features Unit, Lagos State Ministry of Information and Strategy, Alausa, Ikeja.

Load more