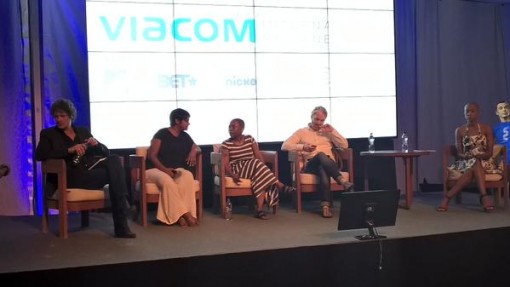 Viacom's dynamic bouquet of quality channels came to life on the Indian Ocean island of Mauritius during the MultiChoice Content Showcase Extravaganza on Wednesday night, when journalists battled it out for fantastic prizes at a 'Viacombat' event.
Hosted by Basketmouth and MTV VJ, Nomuzi Mabena, the assembled media representatives from across the continent played a series of games, based on programming from Viacom channels MTV Base, Nickelodeon, MTV, BET and Comedy Central with an MTV MAMA award up for grabs.
The main attraction of the evening was a chance to dump the famous Nickelodeon Green Slime over a guest of each of the winning team's members' choosing.
With DJ Vigilante presiding on the decks, the groups attempted to outdo each other in games including the Nickelodeon Genius Impossible Quiz,
'Guess The Tight End' with BET's The Wendy Williams Show, MTV Base's Break The Beat Down, MTV Ridiculousness Epic or Fail and Comedy Central South Park Celeb.
Even MultiChoice Africa CEO Tim Jacobs and the General Manager of Corporate Affairs, Caroline Creasy, got in on the act with a special Lip Sync Battle to Taylor Swift's 'Shake It Off'.
All-round nice guy IK Osakioduwa was pranked by the You Got Got team, and didn't let his cool slip for a second when an overenthusiastic fan kept interrupting his interview with Nomuzi.
Nickelodeon Marketing Manager Lindi Davids was delighted at the fierce competition amongst the assembled journalists, who really got into the spirit of the channel-based games. "All of our channels are all about fun, creativity and quality programming – and that's exactly what our media representatives experienced tonight," she said.
"Viacom will be premiering loads of fresh new content across all our channels on the DStv and GOtv platforms in the coming months and we can't wait for Africa to see it."
When the games were done and the last Lip Sync Battle lines had been drawn, the 'lucky' recipients of the evening's Nickelodeon Green Sliming received their honour – with host Basketmouth, first up.
The MultiChoice Africa Content Showcase is a dynamic five-day content extravaganza, which sees a host of DStv's biggest channels, including Sony, SuperSport, Zee World, A+E, Disney, MTV Base, BET, Comedy Central, BBC and M-Net previewing their latest and greatest content, soon to be seen across the video entertainment services provider's platforms. To keep track of happenings at the MultiChoice Africa Content Showcase, follow @multichoice_africa on Instagram, @mcashowcase on Twitter, or via #OnlyTheBest.
Load more