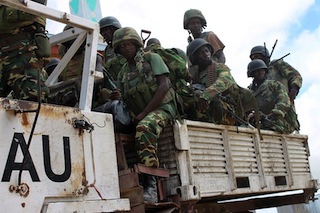 A panel of experts on Border Management convened on Addis Ababa from Sept. 3 to Sept.4 to finalise the Draft African Union Strategy on Enhanced Border Management.
A press statement from AU said that the panel institutes policies for the promotion of African border security, conflict prevention and socio-economic integration.
The statement said that the panel, organised by the AU Border Programme (AUBP), was composed of experts on trade facilitation, migration, border security and cross-border cooperation from various Member States.
It said that the Regional Economic Communities (RECs), non-governmental sector, as well as several national agencies and ministries in charge of customs, immigration and territories and lands were on the panel.
The statement said, Amb. Fred Gateretse-Ngoga, the Head of the AU Conflict Prevention and Early Warning Division, in his opening remarks, commended the progress made on the draft document.
It said that Gateretse-Ngoga underscored the importance of well-managed borders for the achievement of continental integration under the auspices of the AU Agenda 2063.
"We believe that well-managed borders are crucial facilitators of economic development, regulated movements of people and goods, as well as good-neighbourly relations between states and local populations.
"We need to strengthen our border agencies to prevent crime and encourage cross-border trading," the statement quoted Gateretse-Ngoga as saying.
The statement said that the panel reviewed the draft strategy and made recommendations on its implementation, including a roadmap with a concrete action plan.
It said that the panel also made recommendations for the ratification of the AU Convention on Cross-Border Cooperation (Niamey Convention).
Load more