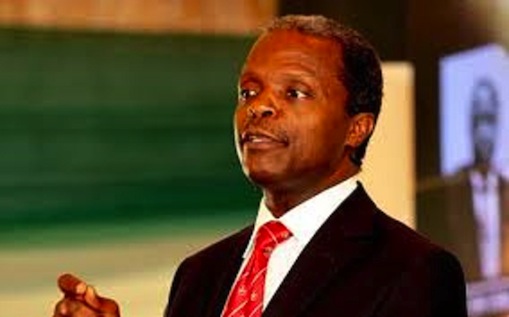 Vice President Yemi Osinbajo has assured Nigerians that the Muhammadu Buhari administration would not let them down inspite of their high expectations.
He gave the assurance on Sunday at the 33rd Holy Ghost Convention of the Sword of the Spirit Ministry, Garden of Victory, Old Ife Road, Ibadan.
Osinbajo, who was accompanied by his wife, Dolapo, said the administration understood that there were high
expectations and had prepared.
"We know that it's been very good; I think that the nation has high expectations and I know that things are just getting better by the day.
"I believe that by the grace of God, all of those expectations and beyond will be met. So, we're looking forward to more exciting times and great things for this nation,'' he said.
The vice president said that it was impossible to talk about a policy direction in one year, adding that he was sure of better days ahead.
Osinbajo also expressed the hope that Nigerians had heard the president's recent speech on the economy and what to expect in the next few days.
He said a lot of work was underway on the economy, especially in the area of agriculture, infrastructure, power and roads.
"A lot of work is to be done in the next few months, so we will see a lot," Osinbajo said.
Also speaking, Oke urged the people to protect the welfare of others, adding that God had always been with the righteous.
"When you answer the call of God, definitely you become a blessing and that blessing will transform to divine enlargement," he said.
He said God had promised to use the convention with the theme, "Divine Enlargement," as a symbolic season.
"It is a season of supernatural enlargement, double rejoicing, double portion, double reward, double honour and double advancement on all frontiers," Oke said.
He said that the convention had provided a divine network for believers of all denominations for rich advancement.
NAN reports that prayer sessions led by notable clerics were held for Ibadan, Oyo State and Nigeria.
Among those who conducted the session were Rev. Supo Ayokunle, the President, Nigerian Baptist Convention, Prelate Ola
Makinde, Methodist Church Nigeria, and General Evangelist of the Christ Apostolic Church Worldwide, Prophet Samuel Abiara.
Also present at the event were Chief Moses Adeyemo, Oyo State Deputy Governor, Prof . Isaac Adewole, the Vice-Chancellor, University of Ibadan, and Prof. Temitope Alonge, the Chief Medical Director, University College Hospital, Ibadan.
Load more