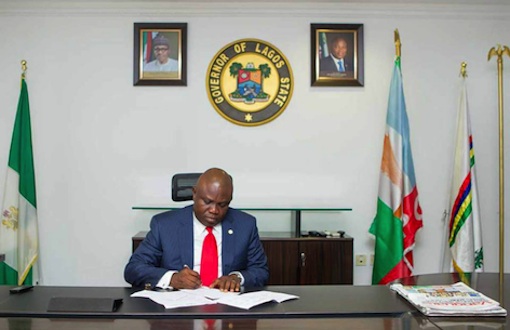 Lagos State Governor, Akinwunmi Ambode on Tuesday signed and approved the ​immediate release of 2500 Certificates of Occupancy (C of O) to property owners across the state from Wednesday, September 9, 2015.
Executive Secretary in the Lands Bureau, Mr Olukayode Ogunnubi who disclosed this to journalists, said the development was in line with Governor Ambode's effort to clear the backlog of C of O that was carried over from the previous administration.
"A clear distinction must be made that this present government wants Lagosians to maximise the economic benefits derivable from ownership of properties as evidenced by obtaining their legal titles," he said.
"That's what we are trying to achieve and that's the reason why the Governor decided to clear all the back log, everything. Now we do not have pending C of O on our table".
Ogunnubi said the advantage of the recent development will enable owners to leverage on the C of O as collateral to obtain loans from financial institutions for business activities.
"This will also contribute to the growth of the state's Gross Domestic Product (GDP) and ultimately the development of the economy of the state," he said.
He said going forward, Governor Ambode intends to ensure that the process of applying and getting the copy of the C of O is not only less cumbersome but treated within the stipulated time.
"So once we have any new applicant for C of O, the Governor's mandate is to ensure that he signs it within the 90 days tenure. Once you make your payment, we start the processing. Let me also report that we are going on the Electronic C of O fully (E-C of O). All the ones he signed are also E-C of O.
"In a nutshell, the idea is to eliminate bureaucratic bottlenecks and this is what the Governor intends to achieve in line with his commitment to make life simple and easy for the people".
"This is a standard milestone as the last time such was witnessed was during the era of the first civilian Governor of Lagos State, Alhaji Lateef Jakande," he said.
Ogunnubi said the list of all the 2500 C of O's signed by Governor Ambode will be published in national dailies from Wednesday.

Load more