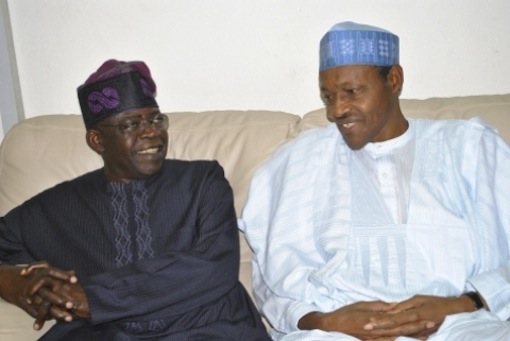 The All Progressives Congress in Lagos State, has decried the attack on the National Learder of the party, Asiwaju Bola Ahmed Tinubu published on the back page of the Sun Newspaper of Wednesday 2nd September 2015 written by Dele Akin Rahman.
According to a statement by Joe Igbokwe ,Publicity Secretary APC Lagos, "in that potentially dangerous piece, Dele Akin Rahman and his dubious sponsors asked President Buhari to be 'Beware of Tinubu because he is a moral burden and a dent on his image.'"
The party said it condemns in strongest terms the calculated attempt to bring Asiwaju Bola Ahmed Tinubu down to their miserable level and to judge the consummate leader of men by their horrible and dubious standards.
Igbokwe said that before the 2015 Presidential elections Tinubu and President Buhari were subjected to vicious attacks and debilitating assaults just to bring them down but they failed woefully and President Buhari and Tinubu ran away with resounding and unprecedented victory on March 28 2015.
"Ever since then, Dele Rahman and his sponsors have been angry, frustrated, confused, humiliated, humbled, afraid and disgraced. Politically they have been decimated and relegated to the background, economically their business of stealing government money in billions has been checkmated and blocked and socially they have been ostracized and rejected by Nigerians.
"These fraudsters and morally bankrupt nonentities know that it is impossible for them to get to Asiwaju BAT's intimidating, illustrious and glorious personality, so they resort to blackmail and character assassination to bring the sage, the colossus and the leader of men to the miserable level.
"Having failed to stop the Buhari-Tinubu tag that rescued Nigeria from the forces of decay, corruption, and rot, having failed to distract and derail the recovery of Nigeria from the forces of decay, the desperadoes are now trying a sly tactics of instigating Buhari to go after Tinubu for the crimes of wrecking and looting Nigeria blind for 16 years when Tinubu's only feel of power was 8 glorious years he ruled Lagos," Igbokwe said.
He added that "it is obvious that these dying forces of evil are on a futile effort to parry their 16 years of wreckage and who else to bear the brunt but a Tinubu who has come to personify a living nightmare to the dying PDP.
"Asiwaju Bola Ahmed Tinubu remains a well-respected political figure in Nigeria, Africa and the world today and woe betide anybody who thinks in his wildest imagination that a strong and powerful image built for nearly 50 years can be destroyed by the antics of a foolish constituency and men without honour.
"Every leader writes his own history through his own deeds and choices. Asiwaju BAT has become a working history in Nigeria by his actions and deeds for nearly 50 years and no power in the tongue of any man can vitiate this even in this age or the age to come."

Load more