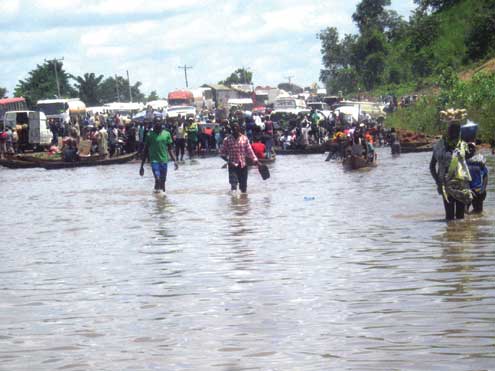 Flood Victims at Sheda in Kwali Area Council of the FCT have called on the National Emergency Management Agency(NEMA) to assist them as their houses and belongings have been washed away by rainfall.
Some of the victims who spoke with NAN on Tuesday, said that the rainfall on Monday night flooded their houses and washed away valuable property.
One of the victims, Blessing Samuel, said that she narrowly survived when the house she was living in with her child collapsed.
"My child and I were sleeping at about 4:00 a.m. when we woke up, we saw water everywhere in the room. All I could think of is my child.
"I rushed and picked my baby and immediately went out of the building and saw the house collapsing," she said.
Another victim, Turdur Igudu said that he was on duty when the rain started but on arriving home in the morning he discovered that his house had collapsed.
Giving an account of what happened, Igudu's wife, said: "I woke my children up while they were sleeping about 2 a.m. and noticed that the flood was coming close to our house.
"We started packing things out of the house close to us, but the house we moved some of our belonging to also collapsed."
Satila Emmanuel, a secondary school student, said that his school fees of about N28, 000 was washed away by the flood, adding that he was to pay it on Tuesday.
Mr. Ibrahim Daniel, the council's Chairman, who visited the flood scene and sympathised with the victims, advised the residents against dumping refuse inside drains.
Daniel, who promised to assist the people, said he would report the matter to the appropriate authority for further action.
NAN reports that 22 houses were destroyed by the flood.
Load more