Seun Bisuga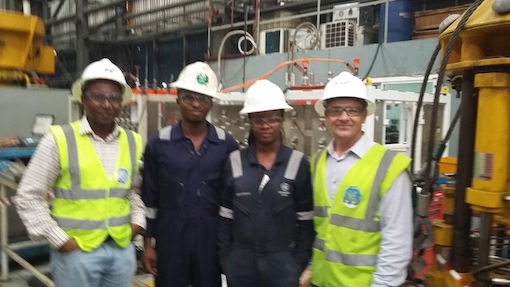 A total of 29 Nigerian engineering graduates have been trained by leading electric company, General Electric (GE) in the last two and a half years and all of them assess this training as 'life changing'.
The graduates who are presently working full time with GE simply put their training as an eye-opener, given that, what they learnt in school was mainly theoretical and only accounts for a fraction of what engineering is about.
Speaking to journalists at Onne Port, Rivers State, some of the graduates engineers at GE encouraged Nigerian university lecturers to visit engineering in other to have first hand knowledge of how on-field engineering works.
Obin Edet, a graduate of Computer Science, University of Uyo who presently works with the Controls Unit said: "General Electric has bridged the gap between theory and practical. They have provided me with the technical expertise that was once elusive. GE has helped me to know things, I never knew before," he noted.
Edet added that while in Brazil during his training he had hands-on experience of what he has been reading in school. "I have been learning how to build the Christmas Tree and we will have the chance to do this at our Calabar world class facility."
Echoing Edet's optimism, his colleague, Bright Samuel, a graduate of Electrical Electronics at UCSI, Malaysia and an indigene of Rivers State said the training has helped him to have a grip of how to use hydraulics as well as work in the mechanical and electrical department of engineering.
"GE's training was an eye-opener to many things I did not know before now. I've a lot and I'm perfecting it at Onne Port," he said.
For Diepriye Boyle, an electrical electronics engineering graduate from the University of Benin who is a Control Maintenance Specialist at GE, her trainings have been the best education she has had as an engineer.
She reckons that the universities do a good job lecturing students on theory but need to do more in practical. "Now, I've come to understand subsea because I've had the chance to see it and work on it," she said.
The story is no different for Marcus Kenwi, a 2013 graduate trainee who graduated from Rivers State University of Science and Technology. "When I joined GE, it looked like virtually everything was unknown. I'm delighted to have been picked by GE because there's a big gap between theory and practical.," he said.
"Lecturers need to come closer to the industry. In truth, they understand the theory very well but even them need practical training," he added.
GE will be employing more Nigerian graduates in the coming years, Uzochi Nwagwu, General Electric, Chief Operating Officer, West Africa said.
He noted that the company whose Calabar Plant is set to create 250 direct jobs and 2,00 indirect jobs will employ more Nigerians soon.
"Nigerians will account for 90 per cent of direct employment at the Calabar facility," adding that, "foundation for knowledge and technology transfer to Nigerian sub-suppliers, academic institutions and people are some of the goals of GE."