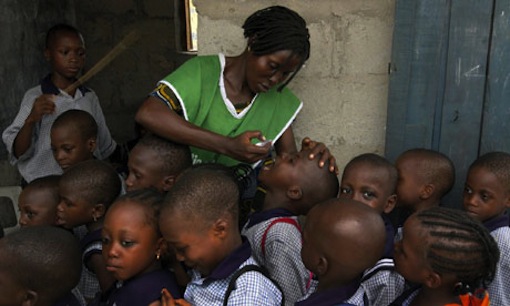 At least 85,000 children have been targeted for immunisation in ongoing exercise against polio and other child-killer diseases in Kafin-Hausa Local Government Area in Jigawa.
Alhaji Abdullahi Sarawa, Manager, National Programme on Immunization (NPI) in the area, made this known while monitoring the exercise in Kafin-Hausa on Tuesday.
Sarawa said that the National Primary Health Care Development Agency (NPHCDA) had supplied 88,500 doses of Oral Polio Vaccines (OPV) to facilitate smooth conduct of the exercise in the area.
He added that 253 health personnel were deployed to the 11 wards in the area for the exercise.
"The children will be immunised against polio and other child-killer diseases between Sept. 5 and Sept. 9," he said, adding that the agency had designated special centres to enhance participation in the exercise.
In his remarks, Chairman of the council, Alhaji Garba Tamballe, said that the council had provided funds for the allowances of personnel and logistics for successful conduct of the exercise.
Tamballe, who added that the council had adopted effective campaign strategies to mobilise participation in the exercise, called on the people to cooperate with the immunisation workers.