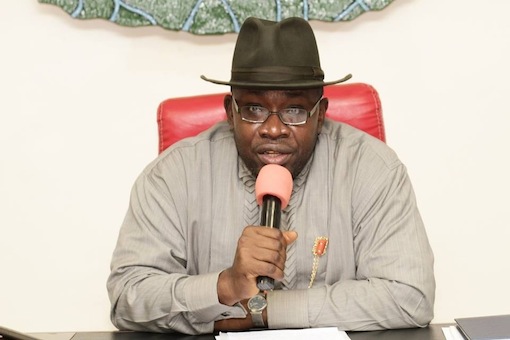 Governor Seriake Dickson of Bayelsa State has stated that his party, the Peoples Democratic Party (PDP) has been adopted by the Ijaw people as their political party, noting that, the main opposition party in the state, All Progressives Congress (APC) will be defeated in the December 5 governorship election.
Dickson who is seeking reelection said this at the formally declaration of his intention to seek re-election on the platform of the PDP. "Having listened to our people and to avoid going back to Egypt, I have decided to announce my formal entry into the Bayelsa State governorship race on the platform of PDP to consolidate on my achievements. I count on you and God," he said.
"Bayelsa state has no room for APC; the other party has no message for Bayelsans. We don't even know their officials. The only thing they are relying on is federal might, security agencies and INEC. But we have you (Bayelsa people) and God. The good news is that they cannot win this state, they are not on ground in this state.
"You are here doing your job but they are in Abuja. Some of their factions have become a parastatal of the PDP. We will wind up APC on December 5. I have to reinforce it on your mind that PDP is on ground in Bayelsa state and has been adopted as Ijaw party.
"We have driven away operation violence and cultism to operation peace. On the day I made my declaration to seek election, five young men were gunned down to put fear in me because they underestimated us. All the people who are cultists and financiers of violence are in the other side. Those that are maimed, they have abandoned them. You young people should be careful because the only thing they know is violence. Propaganda doesn't win election, it is the people that win election.
"We have records of performance, this government and your government is the government of performance. They win election will bullets, dynamites and bombs. Are you prepared to go back to Egypt? No, Go ye and form restoration groups in your wards and constituencies. This election is not about me, but you and your future. I count on you to protect your destiny and your future."
Load more