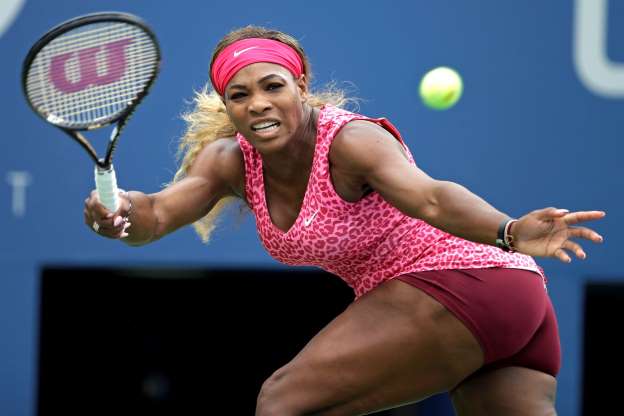 When was the last time you read a critique of Jay Cutler's physique? Or found an online debate over whether LeBron James is sexy? Have you pondered Jonathan Toews' masculinity?
These are nonexistent conversations. These athletes' bodies are rarely discussed and they are never asked about their bodies, unless it involves a pulled hamstring.
Even as she is celebrated for making a run at history in the U.S. Open, aiming to become the first woman in 27 years to complete a calendar-year Grand Slam, these are questions that constantly envelope Serena Williams. They often become stories fixating on sexualizing or criticizing her body instead of applauding her unmatched success in tennis. The intersection of racism and sexism has perhaps never been at such a high pitch in a sports conversation as when it comes to Williams.
I have to wonder — we all should — why are her curves discussed more than her serves?
"There's no question that there is still inequality," said Celeste Watkins-Hayes, a Northwestern associate professor of sociology and African-American studies and faculty fellow at the Institute for Policy Research. "It's not just that there's a black woman playing the sport. But it's a black woman playing a sport that's been dominated, when we look at both players and audience, by wealthier whites.
That is a space in which a very clear perception exists of what's acceptable. It's very narrow."
That is not only apparent in how Williams is discussed. It's how she's valued from a business standpoint.
That she makes $10 million less in endorsements than Maria Sharapova, a thin white blonde whom Williams just so happened to have beaten 17 straight times, is not by coincidence.
Darren Rovell, ESPN's sports business reporter, recently shrugged off the disparity as inevitable economics. Corporations assume consumers will be more drawn to the type of beauty represented by Sharapova and buy the product.
Williams also brushed it off in a New York Times piece, saying, "If they want to market someone who is white and blonde, that's their choice. … There is enough at the table for everyone."
But what else could she say?
Today, it's an ignorant assumption in an increasingly diverse and — hopefully more open-minded — marketplace.
Need more proof of her marketability to tennis fans? The women's U.S. Open sold out before the men's for the first time thanks to Williams.
Rovell also made a poor correlation between money made by many black male athletes in relation to Williams' earnings, conveniently forgetting the decades-long struggles they endured for fair compensation.
"We would hope Serena and other black female athletes don't have to walk that same road for the same period of time before they get their reward," Watkins-Hayes said.
As Williams takes the court at Flushing Meadows, if you're microscopically analyzing her arm muscles, thighs or buttocks, please understand that — and don't get defensive here; you probably don't realize it — you're taking part in a conversation that has a disturbing historical context.
"Black women have always been objects of the white gaze," Watkins-Hayes said. "Historically, whether we want to think back to slavery or Jim Crow, there's a way in which physically, a black woman's body has been a 'problem' or a 'resource' to be exploited. It doesn't fit into many people's notion of femininity. That is not new."
The burden shouldn't be on Williams to respond to these critiques anymore. She's done enough as a literal and figurative symbol of triumph.
Now we — as fans and consumers — should think about how we discuss her athleticism and success. And send a message with where we spend our money.
"It's not just about money and dollar figures," Watkins-Hayes said. "It's about dignity and respect."
—Culled from Chicago Tribune
Load more