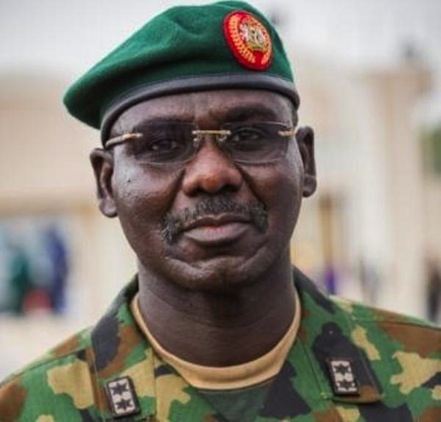 The Nigerian Army on Wednesday released 128 detainees after certifying that they had no link with the Boko Haram terrorists group in Borno.
The Chief of Army Staff (COAS), Lt.-Gen. Tukur Buratai handed over the detainees to Gov. Kashim Shettima at a ceremony in Maiduguri.
He said that the detainees included 109 men, seven women, 11 boys and one unattached teenager.
He said that they were arrested at different parts of the state by the military in its anti-terrorism campaign.
Buratai said that after thorough screening by a team of military intelligence officers, the police and the Department of State Security Service (DSS), the suspects were found to be clean and were released.
"The task of Operation Lafiya Dole can be seen in three terms – to defeat the insurgents, to facilitate humanitarian activities and observe human right and restore the administrative functions in the liberated area.
"We are here to formally hand over those arrested in the process of our operations; we are pleased to hand over the 128 suspects that have been cleared by the joint intelligent core, which comprised the Army, the police and DSS," he said.
The COAS said that the action was an indication that the military was made up of highly trained officers, who believed in observing human right.
"This is clear manifestation that the army is clearly professional," Buratai declared and expressed optimism that the Boko Haram terrorism would soon come to an end.
"We will continue to emphasis that this terrorism will soon come to an end.
"We have been supported by President Muhammadu Buhari; we are getting more equipment and we are getting more of our troops redeployed to the operation," he said.
He commended the Borno government for its support for the military in the anti-terrorism war.
The military had, earlier on July 6, freed 182 suspects, after a team of investigators cleared them of involvement with the group.
Load more