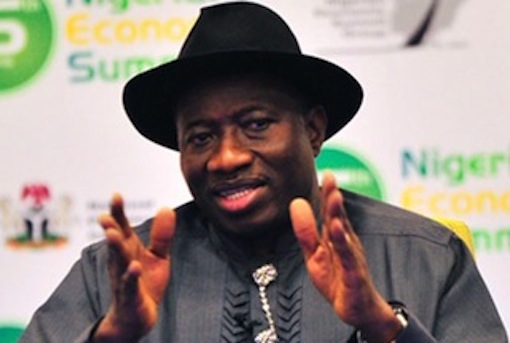 Former Nigerian president, Goodluck Jonathan, has stated why he endorsed Bayelsa State governor, Seriake Dickson, for a second term in office.
Jonathan stated the reason during the formal declaration of Dickson on Tuesday in Yenagoa, Bayelsa capital, noting that, his decision to back Dickson has angered some people in the state.
The ex-president who spoke in pidgin English, urged Bayelsans not to make the mistake of voting for an All Progressives Congress (APC) candidate in the governorship election.
He underscored his reasons for supporting the re-election of Dickson on Saturday December 5, 2015.
"Dickson wants another four years and I say he should go ahead. Some people are frowning against it saying why should I endorse him. There are four things that worry state governments and they include payment of of workers. Dickson has paid workers. The other indebtedness to World Bank. Dickson has tried very well; the third is infrastructural development; the man has also tried.
"The governor has also tried in the area of security. The problem is that Ijaw people like to betray and sell off their brothers and if we continue in that way, Ijaw will not develop. Let's allow Dickson to finish the next four years. I believe that if we come together, things will be better. The leadership of PDP has resolved to deliver Dickson in this coming election."
In his solidarity message, Alamieyeseigha said, "By Gods grace, PDP will continue to rule this state. The Governor has done creditably well and we know that you will take us to the next level. All Bayelsans should come and vote for our Governor on that victory day."
Governor Okusegun Mimiko, said the APC had tried to humiliate Jonathan, but they failed because God was on his side, going by what they planned.
He told Jonathan that,"God has used you to continue to keep Nigeria together. One of the issues we discussed was the invasion of Akwa Ibom State Government House. Everybody knows that it won't happen under Jonathan's government. Those who demonised PDP in the past are in PDP; about 90 per cent of all those in APC were in one way or the other in PDP in the past. The PDP under Jonathan demonstrated vision for our country.
"We're proud of the investments of Governor Dickson in education, you have restored the dignity of Ijaw man. The Ijaw people should stand by you to consolidate on your achievements. Ijaw people gave Nigerians the opportunity for the Presidency."
The Speaker, Bayelsa State House of Assembly, Hon. Konbowei Friday Benson said, "If you (Bayelsans) cannot deliver your constituencies and wards, the leadership of the PDP has resolved that you will be suspended."
A representative of Women for Change said Bayelsa women are all for PDP and Governor Seriake Dickson.
"We can't allow APC to remove our President (Jonathan) at the federal level and for them to succeed again in Bayelsa State. We have all resolved to vote for the return of Governor Henry Seriake Dickson on Saturday December 5 2015."