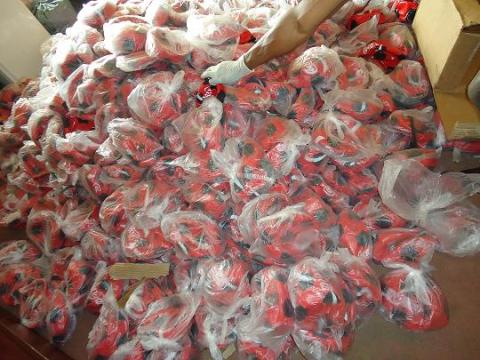 National Agency for Food and Drug Administration and Control (NAFDAC) on Tuesday confiscated drugs worth over N25 million at Igbudu market, Warri.
During the operation, officials of the agency sealed 15 shops and arrested three traders in the market.
Uche Chidi, Chief Regulatory Officer, Enforcement Operation of NAFDAC in Lagos, who led the operation, told newsmen that the traders were in possession of banned and expired products.
"The goods they (traders) have are not actually the approved products they are supposed to have.
"They are supposed to handle under-the counter-products, but they go beyond their range to bring in products donated by the United Nations Population Funds.
"We also found injection water that have expired in 2011; Analgin and other injectables; Pakistan unregistered products and other banned products," he said.
Chidi said that the agency would carry out periodic surveillance and inspection of the market to prevent the sale of banned and expired drugs.
Mrs Nwaneka Uba, Chief Regulatory Officer, NAFDAC office in Delta, said it was heart breaking for unqualified people to sell drugs.
"These people are patient medicine dealers; they are not professional drugs dealers.
"There are some drugs that should be handled by professionals because of the pharmacological actions of the drugs.
"We saw Analgin and government donated drugs that should not be sold inside their shops; we shall investigate to ascertain how these drugs got into their possession.
"Analgin product was banned over 10 years ago by the federal government and many people have died by using Analgin," Uba said.
She said the team had earlier stormed Otor-Udu, a community in Warri where locally brewed gin called Ogogoro was produced.
She said that some sample of the gin was collected for laboratory analysis, adding that the result would determine the agency's next line of action against those selling the product.
"If the product is not harmful, we will report to the management and they will tell us the next line of action to take," she said.