GBENRO ADESINA/IBADAN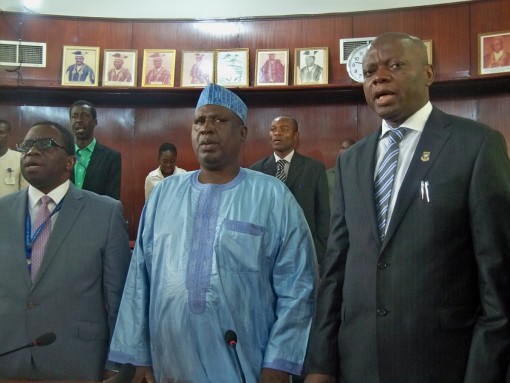 At exactly 2:59pm on Wednesday, the Pro-Chancellor and chairman of Council of the University of Ibadan (UI), Dr. Umar Mustapha, announced the appointment of Professor Idowu Olayinka as the new Vice Chancellor of the premier university.
Unveiling the 12th VC of the institution who was the immediate past Deputy Vice Chancellor in charge of academics, Mustapha said that due process was followed in the appointment of the new VC.
According to him, "When the process started, we advertised in the national newspapers for the vacancy of the office of vice chancellor. A total number of 13 people applied and after conducting interview, six candidates emerged. Out of the six candidates, the first three candidates were recommended and at the end, the best of them all, Professor Idowu Olayinka emerged. I hereby officially announce Professor Idowu Olayinka as the new VC of the University of Ibadan."
He added: "Professor Olayinka, 57, is a professor of Geology and has over 20 years of experience in this institution."
Reacting, the incoming VC acknowledged the roles played by the pro-chancellor and others for his emergence as the new VC, adding that UI belongs to all Nigerians.
He said to that extent, he acknowledged the works he is inheriting, adding that students' welfare would remain top priority, without playing down the welfare of the staff.
"We will continue to ensure that UI is globally relevant. We will continue to ensure that it maintains its first position. There will be accelerated development through consultation. We will ensure that it becomes globally competitive and nationally relevant," he said.
Speaking earlier, the outgoing VC, Professor Isaac Adewole, who assured the new VC of his maximum support, said that "as for me, my job comes to an end on November 1st and it marks the beginning of a new era. I thank everyone for the opportunity given to me. I am the luckiest person, whosoever that occupy this position is only lucky. It is my hope that the members of the university will extend the hands of fellowship given to me while in the office to my successor. I congratulate the new VC for winning the battle."

Load more