Tayo Ogunbiyi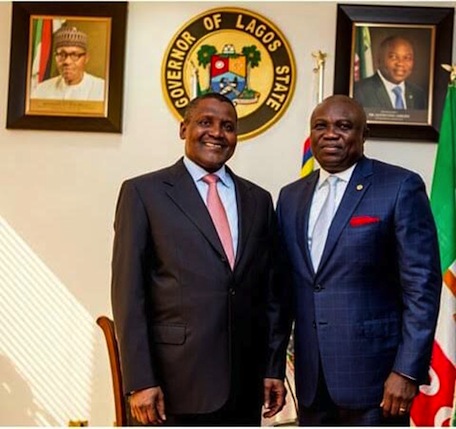 The chief executive of CPA Australia, Alex Malley, once observed that what is needed from strategic leaders with an accounting qualification is a confidence that their ability and relevance is nearly impossible to compete with, not only in business, but in politics as well. It is Malley's conviction that accountants could make a big impact in providing creative and purposeful political leadership. Currently, in Lagos State, the economic nerve centre of Nigeria, a chartered accountant, Akinwumi Ambode, is, no doubt, doing Alex Malley proud.
Within such a short time in office, Ambode has touched nearly every critical sector in the state. The civil service, which oils the machinery of government, has been restructured for tactical re-positioning. Some MDAs have been re-aligned while new ones have been created to align with the vision of the administration. Similarly, government agencies with rented office accommodation are back in the secretariat. The goal is to cut the cost of governance as almost a billion naira is to be saved annually through this initiative.
In the health sector, the administration is steadily making appreciable progress as the governor recently commissioned 20 Mobile Intensive Care Unit (MICU) Ambulances and 26 Transport Ambulances. The aim is to bring quality healthcare service closer to the people, particularly during emergency situations. It is also aimed at widening the coverage of emergency services beyond the metropolis to the hinterland. The ambulances, which are to be deployed free of charge for Lagosians, are part of Ambode's promise to run an all inclusive government.
Similarly, more paramedic staff and special medical coordinators are to be employed to ensure 24 hours service to the citizens. There are also plans to equip all General Hospitals in the state with new mobile X-Ray machines to reduce the cost of patients doing X-Ray outside the hospitals. In same vein, funds have been approved for homegrown cochlear implant surgery, under a special programme dedicated to restoring the hearing ability of those who are deaf or hard of hearing. Cochlear implantation is a hearing device implanted into a deaf patient's ear through surgery, thus helping to convert sounds into impulses which enable the patient to hear. A 64-year-old man has already undergone the surgery successfully.
Part of the vision of the Ambode administration is to make Lagos State operate a 24-hour economy. This could only be properly realised in a secure and safer environment. Consequently, the governor is working with other key stakeholders to advance security course in the state. Recently, Governor Ambode met with individuals and corporate organisations that made commitments in cash and kind towards advancing a safer Lagos. At the event, over one billion naira was realised as cash donations from various corporate organisations and individuals while others made commitments to provide other vital technical support.
Equally, 10 brand new Hilux vehicles and 15 motorbikes were recently handed over to the Lagos State Police Command by the governor as part of the state government's commitment to ensure a secure and investors' friendly state. Likewise, 100 new power bikes, 10 armoured tanks and a helicopter have been acquired by the state government to reinforce the security of the state. This is in addition to the purchase of 100 new squad cars for a new initiative tagged Special Operation Service (SOS), which will harmonize community policing in partnership with the Rapid Response Squad (RRS).
Traffic situation in the state is likewise receiving vital attention. Ambode recently embarked on an on-the spot assessment of major traffic spots across the state. It is the belief of the governor that several manpower hours being lost to traffic gridlock, if properly tackled, could translate into economic boost for the state. Indeed, during his visit to Berger Bus Stop, along Lagos-Ibadan expressway, he reiterated his administration's commitment to providing solutions to the traffic snarls in the state just as he approved the construction of a pedestrian bridge at Berger Bus Stop. He has equally set up a task force to ensure 24 hours surveillance of traffic flow in the state.
In furtherance of efforts to ease traffic in the state, the Ambode administration has improved the condition of 128 roads across the state. These include Lagos-Abeokuta Expressway, Mongoro-Cement-Dopemu under bridge axis, Epe-Ijebu -Ode road, Odumola-Poka/College road junction axis, Ado road, Ajah, Obalende bridge descent inward NIPOST, Lekki-Epe expressway, Elemoro-Abijo axis, Billings Way, Oregun, Ashabi Cole street, Alausa, Abdul Ouadri Adebiyi street, Magodo Phase II among others. This is in addition to on-going efforts to restore the Ejigbo-Ikotun road as well as Brown road in Oshodi.
The education sector is also receiving commensurate attention from the state government. In a bid to improve primary education in the state, Governor Ambode has approved the recruitment of 1300 teachers into all public primary schools across the state. Being the foundation of education at all levels, the Ambode administration is poised to strengthen the quality of the Universal Basic Education Programme in Lagos State to give pupils a solid and sound academic background. The exercise is equally expected to achieve a balanced workforce of teachers in public primary schools in the state.
Retirees of the state government are not exempted from Ambode's touch. Recently, on the order of Ambode, the sum of N11bn was released to pay off pension liabilities owed the mainstream retirees and the retirees in Local Government Areas since 2010. The development is part of efforts to find a holistic solution to the issue of payment of pension entitlements to retirees under the pay-as-you-go pension scheme which was discontinued in April 2007, as well as outstanding accrued pension rights due to retirees under the contributory pension scheme. Additionally, plans have been developed to disburse pension funds to ministries, departments, agencies and parastatals, including local government areas and State Universal Basic Education Board (SUBEB), on a monthly basis commencing from August, 2015. This intervention will go a long way in ameliorating the suffering of retirees in the state.
In view of the economic situation in the country, it is Ambode's belief that Lagos needs to attract more investors into the state to build a sound economy. The Governor has since met with several groups of local and foreign investors including President of Dangote Group of Companies, Alhaji Aliko Dangote, investors from Dubai, United States of America, as well as envoys from several European and Middle East countries. During such meetings, Governor Ambode promised an enabling environment for willing investors, promising improved business climate in the state.
As part of the effort to build a solid economy and ensure proper accountability and transparency in all government accrued revenues, Ambode has approved the operation of Treasury Single
Account (TSA) effective from September 1, 2015. The decision was taken to address the challenges posed by the operation of multiple account system. The operation of a single account also encourages tax payers to request for a single account before making their payments.
On the whole, if what has been seen of Ambode thus far is anything to go by, Lagos is, indeed, set to soar to new heights.
—Ogunbiyi is of the Features Unit, Ministry of Information and Strategy, Alausa, Ikeja.
Load more