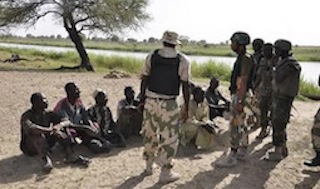 The military has confirmed that more persons detained for alleged links with Boko Haram insurgents will be released after being cleared by its joint intelligence cell.
The acting Director of Army Public Relations, Col. Sani Usman, gave the confirmation in a telephone interview with the News Agency of Nigeria (NAN) on Thursday.
He said the screening of detained suspects conducted jointly by intelligence officers from the Army and other sister agencies, would be continuous and carried out simultaneously with the offensive operation.
"I can tell you that more persons will be released, but contrary to views in some quarters, the release of detained suspects is not the exclusive prerogative of the Army alone.
"So, it is not for anyone to begin to insinuate that the Army alone determines who is to regain freedom or not.
"What happens is that as the intelligence officers identify innocent persons, they hand them over to the affected state governments for rehabilitation and reintegration,'' he said.
Usman said the Army in collaboration with other security agencies would continue to follow the rules of engagement in the operation aimed at liberating areas held by the insurgents.
On the ongoing offensive against the insurgents, Usman said troops were consolidating on the recent gains as areas around Sambisa were being closed down by troops.
He said the frontline commanders and their troops were working toward actualising the timeline set by President Muhammadu Buhari, stressing that it was feasible.
"The operation to hold on to territories taken by our troops will continue as troops advance to the general areas.
"Where we are actually going to from here cannot be disclosed for operational and security reasons but what remains clear to us is that we are making progress as evident in the recent areas held by our troops,'' he said.
Meanwhile, the Centre for Crisis Communication, a Non-governmental Organisation (NGO), has commended security agencies for adopting the current measures, in their bid to end terrorism in the region.
The Head of Research at the centre, Mr Jude Emeje, told NAN that the move would among other things, boost the ongoing counter-insurgency operations in the North-East.
According to Emeje, apart from setting free innocent persons held in detention, the move will boost the Nigeria Armed Forces' human rights credentials, where necessary.
"The continuous release of persons absolved of complicity in the Boko Haram insurgency is a signal that the Nigerian Armed Forces are working in accordance with best practices.
"These people have been processed, profiled and found to be innocent, no matter what anyone will say they are free to go home.
"The timing is not the making of the military because these procedures are cumbersome and take time, especially when it has to do with terrorism, it is not done haphazardly, so people must understand,'' he said.
The News Agency of Nigeria (NAN) recalls that over 100 suspects detained by the military were freed at a ceremony on Wednesday, to the Borno Government.
Load more