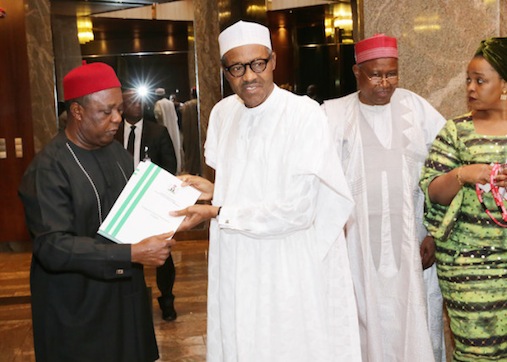 The Revenue Mobilization Allocation and Fiscal Commission (RMAFC) has demanded the immediate return of over N12 billion unremitted funds from some commercial banks holding collected government revenue.
The banks were engaged by the Nigeria Customs Service (NCS) and the Federal Inland Revenue Service (FIRS) to collect revenue and remittances on their behalf.
The demand followed the verification and reconciliation of revenue collections and remittances by the collecting banks carried out by the commission.
According to a statement signed by the Head of Public Relations, RMAFC, Mr Ibrahim Mohammed, the directive was given by the Chairman, Non-Oil Committee of the Commission, Mr Ajibola Fagboyegun.
According to the statement, he gave the order when he received a draft report of the exercise presented to him by the Lead Consultant, JK Consulting Company Limited, which was hired by the Commission for the exercise.
"The purpose of the exercise, which commenced in November 2013, is to improve the public finance system and ensure all revenues collected on behalf of government are remitted accurately when due," Fagboyegun was quoted as saying.
The statement said the Commission, as the national revenue watchdog for the federation account, engaged the services of JK Consulting Company Limited to verify and reconcile revenue collections and remittances by 19 collecting banks engaged by the NCS and the FIRS from Jan 2008 to June 2012 with a view to uncovering unremitted funds.
The statement said Fagboyegun commended all stakeholders and 15 of the banks which cooperated with the consultants during the exercise.
It also said he berated the remaining five banks for their uncooperative attitude, which delayed the completion of the exercise, stressing that their laxity could force the Commission into taking drastic measures against them.
The sanctions, according to the statement may include barring them from collection of government revenue and directing the CBN to enforce deduction at source from the affected banks reserve deposit.
According to the statement, the lead Consultant, Mr. James Naiyeju thanked the commission for its understanding and appreciation of the challenges involved in the exercise.
He added that "with the commission wielding the big stick, the work will be completed in the next couple of weeks."
Load more