Cracks Izuekwe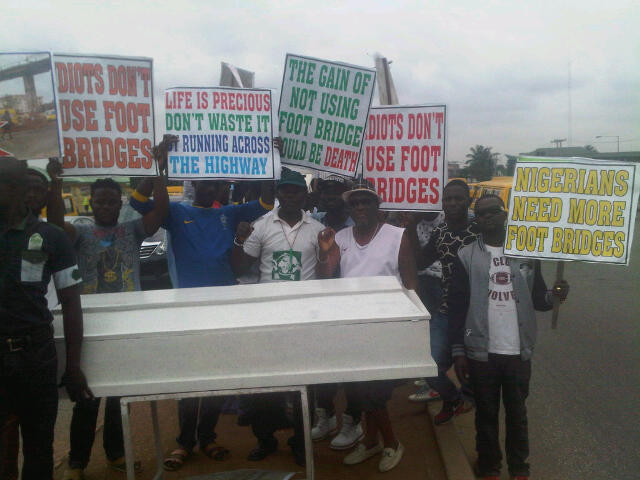 A human rights group, Concern Human Rights of Nigeria has called on Nigerians to always make use of pedestrian bridges because of the danger of crossing busy highways.
The group embarked on Thursday on the awareness campaign at Ikeja around the Agege Motor Road, Lagos, western Nigeria.
The group carried a mock coffin to show the public the dangers of not using the footbridges which they said results in untimely death.
The National Coordinator of the group, Comrade Declan Ihekaire, stated during the sensitisation exercise that the essence of their action was to add their voice against the negative trend by displaying a mock coffin to send death signal to those who cross the expressway rather than make use of the footbridges across the nation.
He said dashing across busy highways has been incurable habit built over time by pedestrians and that had caused the death of many Nigerians.
He called for a change of the attitude and noted that the rate at which motorists driving along the highways knock down and sometimes kill Nigerians who are in the bad habit running across such roads was high, adding that there was an urgent need to address that.
He said such deaths were avoidable if citizens could make use of footbridges provided by the government.
"Records show that many people are dying on daily basis because they refused to use footbridges which also contribute to traffic congestion especially in Lagos State," he stated.
Ihekaire also called on the federal and state governments to embark on massive construction of footbridges or Zebra Crossing with traffic light indicators to control both motorists and pedestrians without further delay to save lives.
He urged the government to arrest and prosecute people who disobey the rules by crossing the expressways rather than use footbridges.
He warned that such arrest and prosecution should not be an avenue to extort by government officials.
Members of the group gathered by the expressway singing to draw attention of passers-by to listen to the message they were passing across.
Load more