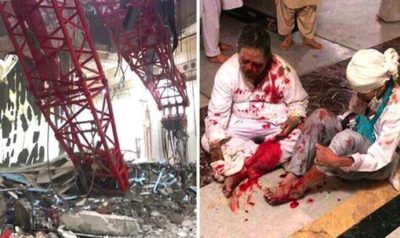 Riyadh (AFP) – At least 62 people were killed and 30 injured when a crane crashed into the Grand Mosque of Saudi Arabia's holy Muslim city of Mecca Friday, the civil defence said on Twitter.
Few details were immediately available but pictures circulating on social media showed bloodied bodies strewn across part of the mosque where the crane was seen having crashed into the ceiling.
The incident occurred as hundreds of thousands of Muslims gather from all over the world for the annual hajj pilgrimage set to begin later this month.