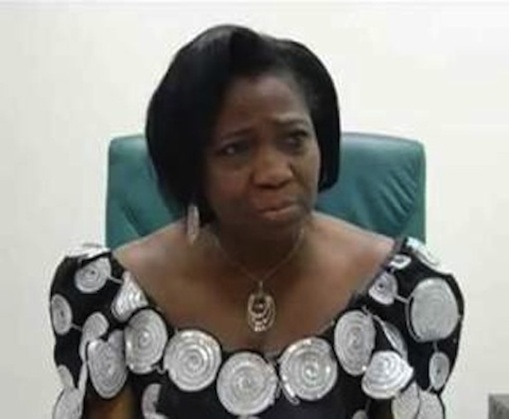 A former member of the National Assembly, Mrs Abike Dabiri-Erewa, on Friday decried the inability of the Goodluck Jonathan administration to assent to the Disability Bill in spite of its passage by the two houses of the National Assembly.
Dabiri-Erewa, who was the Chairperson, House Committee on Diaspora during the 7th session, made this known in an interview with the News Agency of Nigeria (NAN) in Ibadan.
NAN reports that the former lawmaker spoke against the backdrop of the implication of non-assent to the bill for persons with disability in Nigeria.
Dabiri-Erewa, who was the sole sponsor of the bill, said that it was a shame that Nigeria currently had no law in place for persons with disability.
"We did a lot of work on that bill both at the Senate and the House of Representatives and it was one of those bills sent to the president to sign into law.
"Despite lawmakers' early passage of the bill considering the hardship faced by our fellow citizens living with disability, I am particularly sad that our effort was not rewarded by the last government.
"I sincerely hope that the 8th National Assembly would make it a priority bill because we are dealing with over four million Nigerians who happen to be physically challenged.
"We are saying that the government must put them into consideration in everything we do.
"For instance, there is the area of construction of public buildings, banks, hospitals, schools and other work places because the bill is all encompassing," Dabiri-Erewa said.
In his own submission, Mr Paul Adelabu, a former Special Adviser to the Oyo State Governor on Disability, said that it was Jonathan's personal decision not to sign the bill into law.
According to Adelabu, Jonathan felt that meeting the conditions cited in some sections of the bill might be too demanding for the country.
"However, the lawmakers that passed the bill are very kind Nigerians. Jonathan also promised to establish a National Commission for People with Disability.
"This, he said, at a town hall meeting with Buhari at Nasarawa and I was physically present there.
"Buhari also agreed with us to include persons with disability in his government," Adelabu said.
Adelabu pointed out that the expectations of persons with disability was very high now with Buhari as president.
In his remarks, Mr Olufemi Bayode, an expert on Special Education, said that Nigeria's problem was implementing policies.
Bayode stressed that there was no need signing the bill into law if the government was not going to implement the conditions therein.
"Already, Lagos and Plateau states have signed that bill into law, but are yet to implement any aspect of it.
"Even though Nigeria is a signatory to the convention that gives adequate welfare to persons with disability, ratifying it is now the issue,'' he said.
He however, called on persons living with disability to embark on constant media campaign to press home their demand for inclusive treatment.
Load more