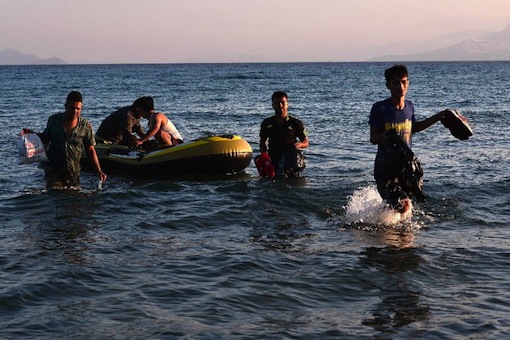 (Reuters) – More than 430,000 refugees and migrants have crossed the Mediterranean to Europe so far in 2015, a record number that is more than double the total for the whole of last year, the International Organization for Migration said on Friday.
The United Nations refugee agency called for decent mass reception centres to be set up immediately in Greece, Italy and Hungary, on the front lines of a huge influx of refugees being received in "appalling conditions".
The UN High Commissioner for Refugees (UNHCR) welcomed a European Union proposal to share out 160,000 refugees and an offer by Washington to take 10,000 Syrians over the next year, but said "the United States could and should do much more".
The Geneva-based International Organization for Migration said a record 432,761 refugees and migrants were now estimated to have made the perilous journey across the Mediterranean to Europe so far this year, while 2,748 have drowned.
The IOM said an estimated 309,356 people had arrived by sea in Greece as of Sept. 10, with another 121,139 arriving in Italy, 2,166 in Spain and 100 in Malta.
This was a record and compared with 197,940 people who arrived by sea in those four European countries in all of 2014, IOM spokesman Daniel Szabo told Reuters.
The UNHCR is sending prefabricated housing units to provide temporary overnight shelter for 300 families in Hungary, a country that is building a 175-km (110-mile) fence along its southern border with Serbia to stem the flow of people trekking north, many aiming for Germany.
"We are stepping up operations in Europe, including Hungary," UNHCR spokesman William Spindler told a news briefing.
Fifty pre-fab family homes have also arrived in the Greek island of Lesbos, and a further 300 are being sent to nearby Kos, while 50 have arrived in Macedonia, he said.
APPALLING CONDITIONS
"We are very concerned, we were the first to call attention to the appalling conditions in many of these places. They are slowing getting better, they are still far from meeting international standards," Spindler said.
The UNHCR was "closely following" Hungary's use of the army to control the situation. "Obviously we expect authorities to respect rights of refugees whether they are the police or army or the civilian authorities," he said.
Hungarian Prime Minister Viktor Orban warned that his police would take tougher action from next week against migrants who he said had rebelled against authorities, seized railway stations and refused to be registered.
UNHCR urged the EU to uphold national and international law in managing its borders, including by ensuring people are able to seek asylum from war and persecution.
The UNHCR reiterated that the EU would need to relocate 200,000 people from the frontline European countries such as Greece and Italy by the end of 2016, more than the 160,000 mentioned in the EU plan.
European Commission President Jean-Claude Juncker said on Wednesday the EU would offer better protection for refugees but would also improve its frontier defences and deport more illegal migrants.
About half of those crossing the Mediterranean are Syrians fleeing civil war, a figure "expected to continue rising rapidly over the coming weeks and months", the UNHCR said.
Afghans, Eritreans, Nigerians and Somalis compose the other four largest groups of nationalities in the human tide seeking European shores, Spindler said.
"They will not be deterred by barbed wire or even taking dangerous sea voyages. The answer is to provide adequate legal avenues for people to come to Europe in safety," Spindler said.