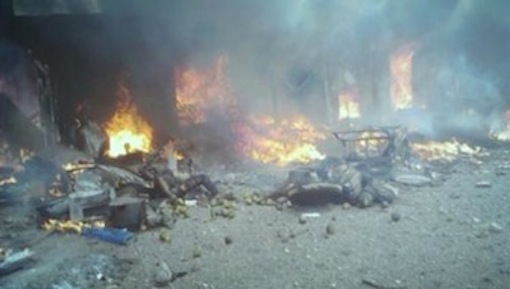 Reuters – A bomb went off in an internally displaced persons (IDP) camp on the outskirts of the Adamawa state capital Yola in northeastern Nigeria on Friday, killing at least three people, state emergency agency officials said.
There was no immediate claim of responsibility. About 2.1 million people have been displaced and hundreds killed in a six-year-old insurgency waged by jihadist group Boko Haram to carve out an Islamist state in Nigeria's northeast.
The blast, the first such attack on an IDP camp in Nigeria, occurred at a school in the hamlet of Malkohi, spokesman Manzo Ezekiel of the National Emergency Management Agency said.
Saad Bello, a NEMA coordinator in Adamawa, said three people were killed on the spot and others were taken to hospital.
"The bomb blast was around where the newly arrived IDPs were staying in a tent," Ezekiel said, "We received additional IDPs from Cameroon…Some arrived yesterday. They've been arriving since Sunday and they're distributed across three camps."
Most IDPs are living in government-run camps, with host families or religious organisations in the city of Maiduguri in Borno state, the heartland of the insurgency.
Neighbouring Adamawa state was hosting over 250,000 people earlier this year in and around Yola and also received many women and children freed by Nigerian troops from
Boko Haram camps.
Several cities in Adamawa also took in thousands of Nigerian refugees from Boko Haram attacks who were evicted from Cameroon last month and continue to flow in.
Nigerian, Nigerien and Chadian troops managed in joint offensives to reclaim territory this year that the militants took over earlier in the insurgency.
Now dispersed across Borno state and other parts of the country, Boko Haram members have reverted to guerrilla tactics and frequently target places of worship, markets and checkpoints.

Load more