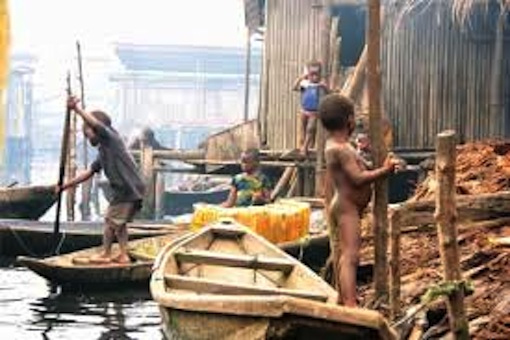 The Centre for the Defense of Human Rights and Democracy in Africa (CDHRDA) on Friday urged public office holders on the continent to focus on the plight of slum dwellers.
Prof. Maurice Fangnon, the Centre's Secretary-General, told NAN in Lagos that many slum dwellers faced poor living conditions and eviction from their communities.
He spoke against the backdrop of claims and counter-claims over ownership of land in Otodogbame, a coastal slum in Eti-Osa Local Government Area of Lagos State.
Fangnon said: "We are very much interested in the plight of this people because common people are supposed to live on earth. The earth is not only for rich people.
"But the system we are applying today is that the rich should continue living and the poor should be driven away to hell.
"Our Centre is out to shout in such cases for people who are in charge of law, security and others, to know that some people are still supreme on earth.
"There are still untouchables on earth– that they are free to carry gun, cutlass, and fire and go commit arson, rape, kill people and go free.
"This is happening in Nigeria; the Nigeria that we are re-branding. We say this is not possible, we cannot continue like that."
He added that the CDHRDA had petitioned relevant authorities, including security agencies, over the alleged violations.
"Corruption should not be a continuous barrier to justice, and that is what we are seeing in this case.
"Powers and monies are being used to stop justice; we are against it, we frown at it.
"We want the authorities in charge of law and order to hear it before it is too late."
Residents of the community had on Thursday accused members of the Elegushi family of alleged encroachment on their land, destruction of property, rape, murder, and arson.
Mr Hennu Akojenu, the community's councilor said, "our community had been in existence for over 300 years, but in 2014 we saw a notice that emanated from the Elegushi family, directing us to pack out.
"Within three days, their threats were carried out and 10 persons lost their lives, including twin babies who burnt to ashes.
"On September 5, 2015, several hoodlums with guns, machetes, cutlasses, and charms began to shoot sporadically at the water front and many residents took to their heels for safety.
"The shootings lasted till Monday, Sept. 7; we are still feeling the trauma of the pains inflicted on us"
An octogenarian, Mr Wayidi Naneyon-Ponoh said, "I am the grandson of the founder of Otodogbame.
In fact, those challenging our right to this land grew up in our hands. "We lived peacefully with their fathers since this community was founded."
Naneyon-Ponoh also blamed successive governments of neglect.
Mr Emmanuel Anasu, a youth leader, added that the Otodogbame had yet to benefit from previous governments. "Most of the youths have not received any form of care from the government.
"We want to see basic amenities that will enable us escape from poverty, nothing more. They should support the community technically, financially, and in
the area of tourism, so that this coastal community can be worth living in."
In his reaction, the Elegushi of Ikateland, Oba Saheed Elegushi, denied the allegations, saying, "it is important to first and foremost know the facts.
"You, visit the place and assess the soil there. Does it look like a place that has been in existence for 300 years?
"All these people are squatters from Banana Island, and other transit places. Are you going to tell me that somebody would be somewhere for 300
years and there would be no proper structures (on ground)?" queried.
Otodogbame is said to be occupied by more than 3,000 people.

Load more