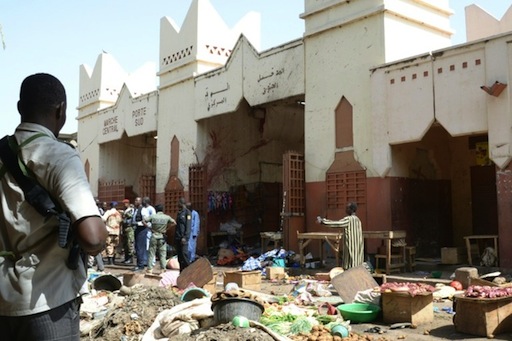 New Boko Haram attacks have created a major hunger crisis in Africa's Lake Chad region with malnutrition reaching "catastrophic" levels in some areas, the World Food Programme (WFP) said on Friday.
It is appealing for $16.3 million to deal with immediate needs in Chad, Niger and Cameroon, where hundreds of thousands of people are displaced and three quarters of a million are going hungry.
Boko Haram insurgents, who have been fighting for six years to establish an Islamist state in northeast Nigeria, have stepped up attacks on neighbouring countries which joined a Nigerian offensive against the Islamist group.
"More and more people are being driven into hunger because of the impact of the Boko Haram violence. People are very vulnerable and the crisis is escalating," said WFP spokeswoman Adel Sarkozi, who visited the Lake Chad region this week.
"In the worst affected areas one in three children has acute malnutrition. I visited health clinics which said three months ago they saw 20 malnourished kids every day and now they see 80. It's fair to say that it is catastrophic in some areas."
Sarkozi said more than 51,000 people who normally fish and farm on fertile islands in Lake Chad had fled their homes in recent weeks following attacks by militants, who have massacred villagers and looted crops and livestock.
Some people had jumped into the water and swum for hours to reach safety, she said, speaking by phone from Chad's capital, Ndjamena.
"WAVES OF SUFFERING"
The displaced are now camped in makeshift shelters alongside refugees who have fled fighting in Nigeria. The settlements are strung out on barren land between the towns of Baga Sola and Bol.
"What strikes me most is how precarious their situation is. They're living in shelters which are very flimsy and patched together. They are not really tents – they are like piles of twigs," Sarkozi said.
"People are sitting outside in the heat looking very traumatised and exhausted … There are women who have seen their husbands or children killed in front of them."
She said she had met a widowed mother of five who told her: "I have not been able to sleep since what happened. Every time I close my eyes, I see my husband being killed."
Most of the displaced are women and children – some of the men have been killed or have migrated for work.
Sarkozi said people had planted crops on the islands but could not risk returning to harvest them. Many lost their livelihoods when Chad banned fishing on the lake for security reasons and the conflict shut down cross-border trade with Nigeria.
WFP said some families had resorting to selling livestock and a third of households reported building up debts as they struggled to survive.
Sarkozi said the crisis was creating "waves of suffering" in an area which was already very poor. "The local people who have been helping them and sharing their food now don't have food either."
Boko Haram, which has killed and kidnapped thousands of people in its insurgency, controlled an area the size of Belgium earlier this year. The regional offensive has driven them from much of this territory, but the militants have since struck back with a renewed wave of raids and suicide bombings.
Culled from Reuters
Load more