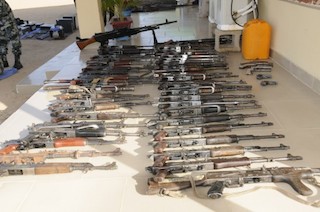 The Nigeria Red Cross Society has urged the Federal Government to check the proliferation of small arms, which have heightened the level of insecurity in the country.
The Vice-Chairman of Red Cross, Anambra chapter, Prof. Peter Katchy, made the call in an interview with the News Agency of Nigeria (NAN) in Onitsha, Anambra on Saturday.
Katchy said that the government needed to urgently and regularly monitor the movement of dangerous chemicals and small arms.
He condemned the situation where illegal small arms had permeated all nooks and crannies of the country, thus threatening the peace of the country.
"Nigeria is usually described as a country with the happiest people in the world.
"And government must do all in its powers to stop few bellicose people, who have been indoctrinated by foreign influence or groups to deprive us of our peaceful nature.
"President Muhammadu Buhari should rise and fight the monster of insecurity with the military passion it deserves,'' he said.
Katchy, who is an International Red Cross Gold Medalist, also urged Nigerians to show understanding as government was taking measures to restore lasting security in the country.
"The issue of insecurity, whether international or local should be viewed and tackled with the seriousness it deserves.
"Our people should support the Federal Government and security agencies to bring back peace and protection of life and property in the country,'' he added.