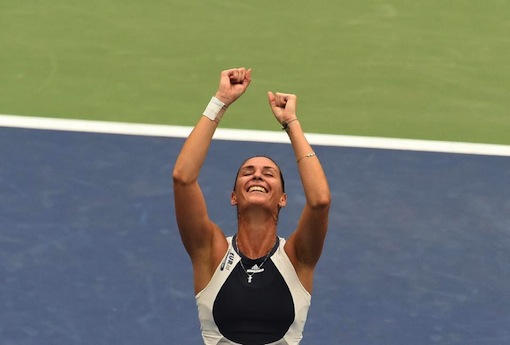 Flavia Pennetta, the 2015 champion at the US Open has bowed out of tennis.
The 26th seed announced her retirement today in New York, moments after lifting the trophy, her first Grand Slam.
"This is the way I will like to say goodbye to tennis", she said.
To emerge winner, the 33 year-old, the oldest woman to win a Grand Slam, dashed the hopes of fellow Italian, Roberta Vinci, who had created what was arguably the greatest upset in tennis history by beating 21 Grand Slam winner, Serena Williams on Friday.
#FlaviaPennetta made sure she didn't become another victim of Vinci's fairy tale tennis, by ensuring she snatched victory in two sets, winning the first set that went into a tie break and also winning the second set, 6-2.
The tennis big girls, Serena Williams, Maria Sharapova and Caroline Wozniacki, all former world number ones tweeted words of congratulations to the lady they said always enchants with her smiles.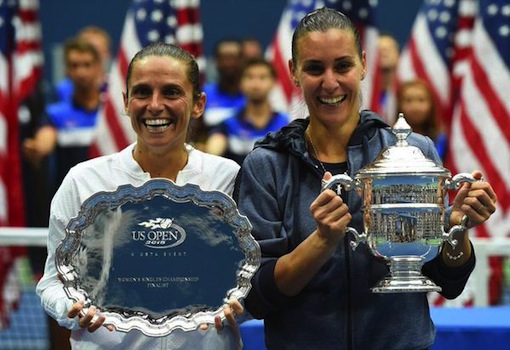 The first-ever all-Italian Grand Slam final attracted a crowd of celebrities, ranging from actress Queen Latifah to the prime minister of Italy. Pennetta bringing her best tennis to the court weathered a tight first set before storming through the latter stages of the match to defeat Vinci and win her first Grand Slam singles title, 7-6, 6-2.

During the on-court trophy ceremony, Pennetta then shocked the crowd by announcing that she is retiring from professional tennis after 15 years on tour, effective immediately.

At age 33, Pennetta is now the oldest first-time Grand Slam singles winner among women in the Open era. Her Cinderella run at this tournament has given the Italian her first title since March 2014 and only her second since 2010. She will now leap from No. 26 to well inside the Top 15 of the WTA rankings, Pennetta also receives a $3.3 million check for winning the US Open this year, bringing her total career prize money to more than $13.5 million.

Despite her loss, Vinci will move over 20 spots in the rankings from her current position of No. 43. She received a check for $1.6 million for reaching the final.

*Additional reports by USopen.org

Load more