Wales Joseph in Congo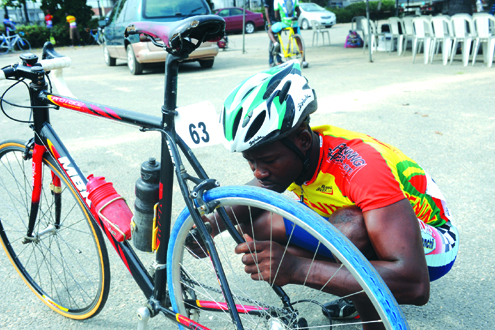 Tombraba Griaba has added to Team Nigeria's medal haul at the ongoing Brazzaville 2015 All Africa Games by winning a bronze medal in the Master Road Race Cycling event for women on Saturday.
This now makes it two medals (gold and bronze) so far won by Team Nigeria in Cycling at the 11th edition of the Games.
Cycling team comprising Tombraba Griaba, Rosemary Marcus, Happy Okafor and Glory Odiase had earlier last week won the country's first gold medal in the Team Stand Trial event.
Secretary, Nigeria Cycling Federation, Samuel Aminu told P.M.NEWS Sports after the race here in Congo the cyclist did a good job winning the medal, adding that he is already looking forward to winning another medal on Sunday in the Masters Road Race for men.
"We are delighted to win another medal here and I must commend Griaba for striving so hard to place third. I know it was not an easy task. I can assure Nigerians that this is not the end as we expect to win another medal, hopefully gold in the Master Road Race Cycling event men today," Aminu.