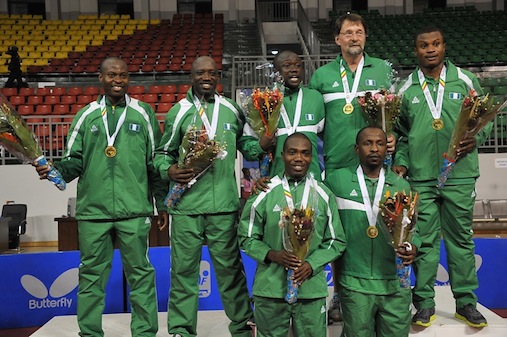 Veteran Segun Toriola turned back the clock when he recorded an emphatic victory over Mohamed El-Beiali and Omar Assar to help Nigeria reclaim the men's team title in the table tennis event ahead of the North Africans at the ongoing All Africa Games in Congo-Brazzaville Sunday night.
Toriola who is unbeaten all through the tournament believes that Nigeria can do more after victory. "I think the competition just started with this victory because we still have five medals to fight four. But prior to the match I told my teammates that we should be confident even when we were down 2-1 in the major. I knew that if I had to beat Omar Assar, I needed to be confident and not to play with any caution. If I am too cautious, I will make mistakes against Omar. I think it was the confidence in the team that gave us the victory," he said.
For 2014 ITTF Star Player, Aruna Quadri, who was also a member of the team, it was a sweet victory. "In our last meetings he defeated me but I could remember that I had also beaten him twice. But today I found an answer to him because we play same style and he believes my style suits him. I am so grateful to God that I was able to beat Mohammed El-Beiali tonight. This is a big victory for us after our women team narrowly lost to Egypt earlier," Quadri said.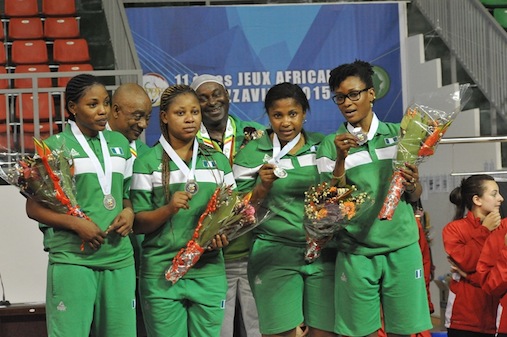 But the same story was not the same in the women's category. With much efforts and a lot of tactical discipline, Egypt defeated Nigeria to retain the women's team title.
It was two wins from Dina Meshref and a win from Nadeen El-Dawlatly that salvaged the victory for Egypt in an epic final.
"This is not the first time I will be playing the deciding match but my coach told me to concentrate. I must say it was more difficult for me in the match. I remained focus and I am happy that I won the match for my country. I feel good winning the title against and I am now strong mentally," said an elated El-Dawlatly Nadeen.
Meshref Dina added: "I am very proud that we won the title this year because looking at previous tournaments, Nigeria has won the African Games title more than any country in Africa. So I am very happy that we were able to retain the title we won four years ago in Mozambique. This goes to show the Egypt is improving and our generation has really worked hard for this success."
The singles events in both men and women categories serve off on Monday.