Kazeem Ugbodaga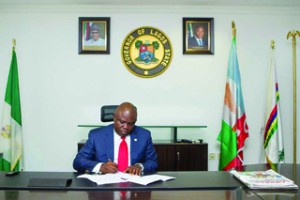 Lagos State Governor, Akinwunmi Ambode on Monday unveiled plans to commence a quarterly rendering of account of stewardship of his administration to intimate Lagosians on the journey so far as well as his plans to take the state to the next level.
The Governor in a statement signed by his Chief Press Secretary, Habib Aruna, said the quarterly rendering of account which would take the form of town hall meetings, would take the government to the nooks and crannies of the state to present its account of stewardship.
He said the town hall meetings would not only afford his administration the opportunity to render its account, it would also go a long way to feel the pulse of the people and get firsthand knowledge of their needs and concerns.
"The maiden edition of our quarterly report will be rendered in the first week of October and would continue in that tradition every three months going forward. At the end of each quarter, our government would report to the people of the state on the journey so far and the task ahead," he said.
He said his administration's efforts in the last three months have been geared towards making sure that public institutions work in the interest of the people, alluding to the fact that public institutions have been animated to measure up to the expectations of the people of the state.
"We are committed to making the various public institutions work to the benefit of the people of the state. That in my view is why we were elected.
"So, our government will use the town hall meetings to get feelers from the populace on how government affects them and what they want from government. The populace will also have the opportunity to know what we have been doing and what we intend to do to make the state safer, cleaner and more prosperous for all who have chosen this state as their home," Ambode said.