Yusuf Muhammed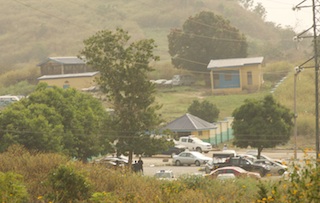 A Nigerian identified as Audi Shehu Usman has been arrested by the police in Lagos State, southwest Nigeria, for defrauding a United States-based Nigerian, Mr. Bonaventure Ezekwenna.
Usman who runs an unregistered company in USA with the name Plainair USA Inc., was alleged to have advertised in a newspaper that he was involved in clearing and forwarding goods from USA to Nigeria which attracted many Nigerians residing in the USA to do business with him.
According to Mr. Ezekwenna, he met Usman in his office at 3677 White Plains Road, Bronx, New York 10467, on 24 November, 2008 and told him he had a Toyota Camry with laptops to send to Nigeria and Usman told him it will take 30 days for the goods to get to his relatives in Lagos through his Lagos manager, Mrs. Aishat Ibrahim Suleman.
Ezekwenna, a USA veteran Army said he paid $709 to Usman for clearing and delivery with another $1600 for the container.
He said that after 30 days he called Usman to find out if the goods had been delivered in Nigeria and he said he should give him a week; that he was having some problems.
After several weeks of postponement, Ezekwenna decided to go to Usman's office in Bronx where he was told by his USA manager, Miss
Julian Obiageli Araka a.k.a. Obiageli Ikemefunna that Usman had bolted with six containers of people's goods.
Narrating his ordeal Ezekwenna said he traced Usman to Nigeria and on getting to Nigeria he was able to get the phone number of Usman.
And when he called him, he told him to come and meet him in Abuja.
Explaining further, he said in Abuja Usman told him to wait for him as he has travelling to Kano.
Ezekwenna said he stayed in Abuja for three weeks before he was told by a friend that Usman was in Lagos.
He then traced Usman to Ikeja area of Lagos where he was eventually arrested by SARS operatives recently.
During interrogation, Usman told the police that the goods were in Cotonou, Benin Republic.
However, Ezekwenna is now in another dilemma as he is expected to pay N80,000 for the trip to Cotonou for investigation.
He says he does know how to raise the money for the to trip Cotonou as there are other expenses to be made in the course of the investigation.

Load more