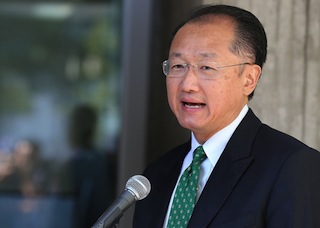 The World Bank has said that constant power supply will ensure overall prosperity and development for Nigeria.
Speaking at a roundtable in Abuja on Monday, Mr Richard Arkutu, Head, Africa Special Initiatives of the International Finance Corporation (IFC), said electrification would benefit Nigerians immensely.
The News Agency of Nigeria (NAN) reports that the IFC is a subsidiary of the World Bank.
"Electrification will make an important contribution to sharing the benefits of growth broadly among all Nigerians.
"Nigeria's progress in reducing extreme poverty is an important contributor to the three per cent global target for extreme poverty,'' he said.
According to him, increasing power production to the level of South Africa can boost Gross Development Product (GDP) growth by 1.5 per cent.
Arkutu said that Nigeria's current power consumption was a quarter of South Africa's consumption and about 50 per cent of consumption levels of comparable middle income countries.
He said that 30 to 40 per cent of manufacturers' costs was power related; therefore, an increase in power generation and distribution was important.
"There is a huge potential impact that an increase in regional gas supply could have on other regional economies, including Ghana,'' he noted.
Other speakers at the roundtable, however, said that the World Bank had a role to play in ensuring that power supply in Nigeria was increased and sustained.
Mr David Ladipo, CEO, Azura Power West Africa Limited, said the World Bank's role in the power sector reforms in Nigeria was beyond providing the leverage and liquidity support for Independent Power Producers (IPPs).
"The World Bank is key in leveraging investment in the transmission company and providing support in the gas sector.
"Right now it is quite critical for the World Bank to provide additional liquidity support for the government as it tries to deal with how to solve the liquidity gap at the distribution level,'' he said.
He also said that the capacity of World Bank was currently greatly under utilised.
This, he said, was because the government itself was not yet in the position to draw on the World Bank's help.
"It is trying to get there but it is not there yet. So there needs to be a lot of dialogue between the key policy makers in the government and the World Bank to tap all these un-utilised facilities that World Bank currently has.''
Mr Rumundaka Wonodi, CEO, Nigeria Bulk Electricity Trading Company PLC, commended the World Bank for the impact it made in the privatisation of the power sector.
He, however, said there was a lot of bureaucracy in the process of accessing the World Bank's facilities.
"The fact that the World Bank blessed the transaction opened a lot of doors that saw genuine investors coming into the country.
"In the power sector, we have enjoyed a lot of technical, advisory support from the World Bank. However, to be honest, accessing some of their facilities could be quite tasking.
"Some of these instruments do take time to access because there is a lot of bureaucracy. So if they are much easier so people can get into them, it will be better,'' he said.
Wonodi also appealed for capacity building for stakeholders in the power sector to enable them to know how to draw from the instruments.
Load more