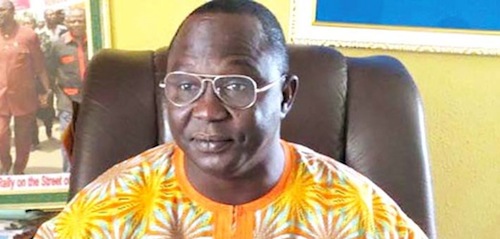 Scores of workers at Lacasera Company Plc staged a protest on Monday in Lagos, moments after at least 700 workers received their sack letters, the News Agency of Nigeria (NAN) reports.
The company, however, described the protest as an invasion of its premises by "hoodlums".
NAN reports that the crisis began after the workers arrived at the company premises in Amuwo Odofin Industrial Estate, Mile 2, Lagos, and found the gate locked against them and a notice of disengagement pasted at the entrance.
The notice dated Sept. 14 and addressed to all members of staff, stated that "as a result of the unwarranted breaking-in and invasion of our business premises on Sept. 11, we cannot guarantee the well-being of our employees from hired hoodlums and their collaborators.
"As a result of this unprovoked act of vandalism, we are unable to continue operations under this circumstance.
"Unfortunately we regret to inform all our staff of their immediate disengagement.''
The workers, under the aegis of the National Union of Food, Beverage and Tobacco Employees (NUFBTE), condemned the act, noting that some of them had worked for between five and 15 years.
Some of their placards read: "No more slavery in this country by foreigners (India);"We are against Xenophobia from India" and "We can never be slaves in our fathers' land."
Mr Mike Olarenwaju, Head of Education Department in NUFBTE, who spoke for the workers, said that for 12 years the company had denied workers the right to be unionised.
Olarenwaju said that when an in-house union was about to be inaugurated, the management of the company sacked the chairman, which made the NUFBTE officials to visit the company on Friday, Sept. 11 to address the workers.
"We were surprised today that the company locked the gate and sacked the workers.
"Meanwhile, the case between the workers and the company over unionisation is currently at the National Industrial Court."
Olarenwaju urged the government to intervene on issues of unfair labour practices being perpetrated by foreign companies.
He said that until the workers were re-absorbed, the union would continue to picket the company.
Mr Idowu Adelakun, the state Chairman of the Nigeria Labour Congress (NLC), told NAN that the act of calling labour officials hoodlums was wrong and vowed that labour would not allow the company to function until the matter was resolved.
Lacasera is a beverage company owned by Indians which started operations in Nigeria in year 2000.
When contacted, the Human Resources Manager of the company, identified as Chief Otemewo, told NAN on phone that he was not aware of the crisis and promised to call back when he obtains details of the sack.

Load more