Eromosele Ebhomele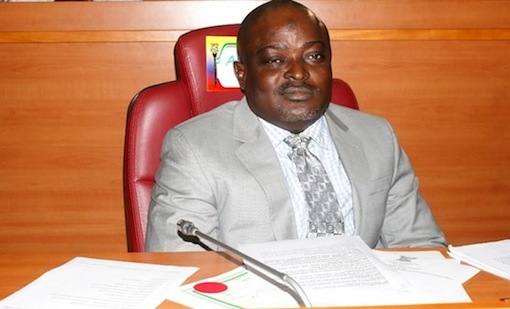 Speaker of the Lagos State House of Assembly, Mudashiru Obasa, on Monday slammed the state Traffic Management Authority, LASTMA, saying officials of the government parastatals have brought disrespect to the institution.
Obasa, who presided over a sitting, the first after a three-week recess by lawmakers, said officials of LASTMA and their activities, have brought disrepute to the traffic management body.
"When you have to follow a motorist to the ATM (automated teller machine) to collect money, how would you be respected?" Obasa asked.
To some of his colleagues who were surprise, the Speaker said: "it is a glaring fact, it is what we know.
"If we behave well, definitely, people would respect us.
"I think LASTMA has a monitoring unit and the unit knows what to do."
Obasa's outpouring came after a motion was moved on the need to review the activities of motorists as well as improve on traffic management in the state.
The motion, sponsored by Gbolahan Yishawu from Eti Osa Constituency 1, is aimed at directing the state Governor Akinwunmi Ambode to commence the automation of the entire traffic monitoring system of the state by 2016.
Yishawu, in the motion said, the state traffic law, which is being enforced manually has not achieved its target.
To him, it is humanly impossible for law enforcement agents to keep surveillance on the roads and ensure enforcement with the way it is presently being done.
"We should put machines with different cameras on the roads to help the law enforcement agents.
"The device would help the security agents to apprehend offenders.
"It would help monitor BRT lanes, it would help identify trailers who move on the day time and it would help exonerate innocent road users," Yishawu said.
In his reaction to the motion, Rotimi Olowo, the lawmaker representing Shomolu Constituency 1 described the motion as timely said it came the same time the state Governor directed officials of the LASTMA to stop harassing motorists.
Stressing that the motion would help protect the lives of passengers, he said the project could be financed in phases asking: "how do we arrest road users that did not do their registration in Lagos State?
"With CCTV, a LASTMA official does not need to apprehend erring drivers directly.
"There should be an harmonisation of data to know those who registered in Lagos State."
Commenting further, Adefunmilayo Tejuosho from Mushin Constituency 1 said that vehicle registration was not strictly a state affair and that the Federal Government should be carried along in the whole process.
Another lawmaker, Setonji David, cautioned that automation would lead to unemployment and that our level of development could not meet up with such sophistication.
Meanwhile, the Assembly has summoned the General Manager of LASTMA and the head of Lagos State Fire Service Auhtority to appear before it on Monday 21 September over the spate of fire incidents and tanker accidents in the state.