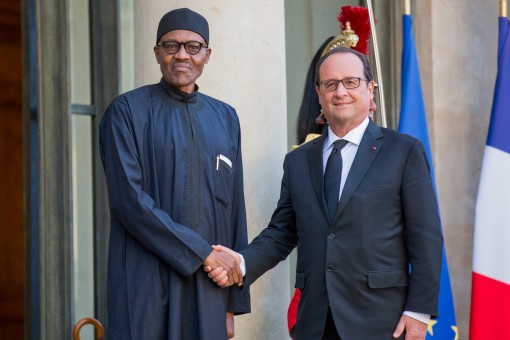 President Muhammadu Buhari in Paris assured French investors of his administration's commitment to provide a suitable business environment that would boost economic activities and create jobs for the youth.
News Agency of Nigeria (NAN) reports that Buhari gave the assurance at a gathering of investors at the France-Nigeria Business Forum held at the headquarters of the French Business Confederation in Paris.
President Buhari said his decision to approach headlong the issue of insecurity within the early days of his administration was to ensure the safety of all citizens and guarantee investment for both local and foreign investors.
He said Nigeria and France, who already have a cordial trade partnership, needed to promote a win-win sustainable business relation.
He recalled the long standing economic ties between the two countries which dated as far back as 1902 when the CFAO, a major French company, set up a training programme in Lagos.
The president, therefore, assured that his administration would rebuild Nigeria into a competitive, virile, productive economy based on excellence, integrity, transparency, accountability and respect for the rule of law.
"It is a positive development that today Nigeria is the largest trading partner with France in Africa.
"Today, many French companies are happy to have flourishing businesses in Nigeria.
"But, opportunities abound to greatly increase the current five billion dollars annual trade volume and I fully agree with President Hollande when he declared in February, 2014 in Abuja that trade volume between both countries should double in four years.
According to the President, this trade expansion is to cover critical areas such as agriculture, energy, automobile and skill development.
He said, "Nigeria is now at a new dawn to chart and re-position its destiny for greatness.
"We are resolved and firmly determined to consolidate on industrialising Nigeria and diversifying its economy into sectors such as agro-processing, mining, manufacturing, petrol-chemicals, food processing and textiles.''
President Buhari further told the investors that his government would spare no effort to sustain Nigeria's credentials as the preferred and number one investment destination in Africa as well as the country with the fourth highest investment returns in the world.
"Nigeria has what it takes to make a break-through and there is more to Nigeria than oil.
"It is a blessed land rich in agricultural and mineral resources coupled with skilled and low-cost labour, large market, robust and competitive private sector,'' he added.
He thanked Mr Pierre Gattaz, the President of the Movement of French Entrepreneurs (MEDEF), organisers of the France-Nigeria Business Forum for mobilising the platform and looked forward to their business trip to Nigeria in three weeks' time.
In his remarks, Gattaz, said French businessmen were interested in investing in Nigeria's economy, being the biggest in Africa.
He described the electoral victory of President Buhari as a launching pad for Nigeria becoming the largest in democracy, demography and development, and called on the President to count on the support of French businessmen.

Load more