Daniels Ekugo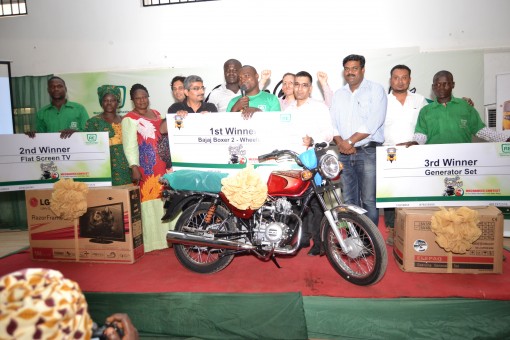 A Nigerian mechanic, Adeshina Odedokun, has emerged the winner of a Bajaj Motorcycle in the recently concluded "Speed to Lead Contest' on fastest person to dismantle and assemble the Bajaj RE4s engine within 18.20 minutes.
Chukuma Ogbodo was adjudged the 2nd Winner and Mr Kazeem Balogun emerged the 3rd winner.
Speaking at the event in Lagos, Regional Sales Manager, Bajaj Auto, Mr Sushil Kumar (Manager- Export Business Bajaj), said that the competition allows technicians to demonstrate their skills and knowledge through a variety of speed drills and problem-solving skills test.
"Those that are most proficient earn valuable prizes," he said, adding that the contest was launched to recognize the skills of the expert technicians in servicing and repairing Bajaj RE4s tricycles and give them the opportunity to enhance their talent and having better opportunities in their career.
Picture caption: L.R: Mr Chukuma Ogbodo (2nd Winner ), Helen Omojola (M.D Muboj Limited) Mr Sandib(Regional Sales Manager – DAG, Mr Sushil Kumar (Manager- Export Business Bajaj), Mr Firdous- Head Sales DAG, Mr Adeshina Adedokun ( 1st Winner), Mr Avinash (GM – DAG), Mr Naveen (Head – Service DAG), Mr Anindya (Deputy Head – Service DAG) and Mr Kazeem Balogun (3rd Winner).
Load more