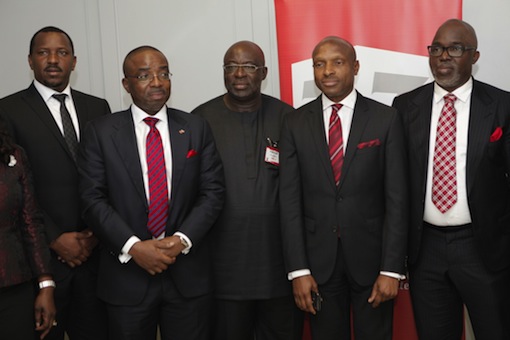 The management of Zenith Bank Plc has said that its partnership with Nigeria Football Federation, NFF, on youth football development is a worthwhile Social Corporate Responsibility that will benefit Nigerian youth.
The bank will also bankroll the salary of Sunday Oliseh, chief coach of the Super Eagles for one year which is believed to be N60 million.
It would be recalled that a new chapter was opened in Nigeria football on Monday when the Nigeria Football Federation and Zenith Bank Plc announced a partnership for youth football development and capacity building programs in Lagos.
NFF President Amaju Pinnick led the NFF top hierarchy to a brief but colourful event at Zenith Bank's headquarters in Lagos, where the topmost financial institution's Group Managing Director/Chief Executive Officer, Mr. Peter Amangbo emphasized that "we are ready to empower the new crop of young and accountable administrators at the NFF to reach lofty heights."
Amangbo noted that the coming of a crop of young, passionate, intelligent and transparent persons to the helm of affairs at the NFF was indeed pleasing.
"This is a crop of people you see doing things and benchmarking them against global best practices. For a very long time, we have not seen this in Nigeria football administration.
"The quality of people leading the NFF has spurred us to commit to giving them support. We are ready and happy to empower them to reach the lofty heights they have set for themselves."
The partnership announcement began with a presentation by NFF 1st Vice President Seyi Akinwunmi, who in his capacity as Chairman of the Youth Football Committee, regaled the gathering with NFF's comprehensive youth development program, including but not limited to grassroots, U-13, U-15 sub-heads, which will be in the framework of what he called The Next Eagles Championship.
"We have a holistic Future Generation Plan, which is aimed at engendering a pool of talented youngmen and women for all categories of the national teams at all times. Today, everybody talks about the senior national team. That should not be so. We want to create a situation whereby people will also talk about grassroots and youth competitions
"The NFF is committed to working hand-in-hand with every organ that has to something to do with the youth, in order to realize our objectives. In the next two weeks, we will unveil our detailed program at a world press conference."
According to the NFF President, Pinnick, apart from capacity building programs for all workers in football, the youth development program is the next big commitment of the present NFF administration.
"The impact of our capacity building program for referees has been immediate, with the improvement in the league. Now, it is time for a comprehensive youth development program that will see to the constant feeding of all the national teams
"We cannot thank Zenith Bank, a financial institution with impeccable records and with a solid reputation, enough for their support for this program. They have indeed opened the way for real development of Nigeria football.
Pinnick highlighted that the kernel of the partnership is for the Nigeria Football Federation to invoice Zenith Bank for the various youth development programs, as well as for capacity building of adminstrators (Chairmen of State Football Associations) and the salary of Super Eagles' Head Coach, Sunday Oliseh.
"Both the NFF and Zenith Bank have agreed not to put a price tag on this partnership. We will invoice Zenith Bank for the various programs and all these will be captured in our audited account in the annual report.
"It is a transparent path that we have both chosen, and we believe that this marriage was made in heaven."

Load more