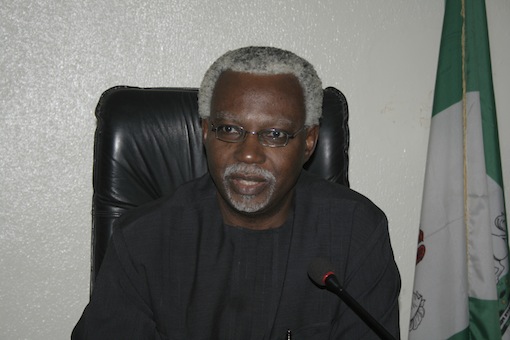 The Independent Corrupt Practices and Other Related Offences Commission (ICPC) has handed over the sum of N924 million looted by civil servants to Ministry of Environment, represented by the Permanent Secretary, Fatima Mede, and the Director General of the Great Green Wall Project, Ahmed Goni.
Ekpo Nta, Chairman ICPC who handed over money stolen from the account of the Ministry by some officials who are said to be undergoing prosecution currently at a ceremony in Abuja on Tuesday also used the occasion to warn state governors not to tamper with bailout funds recently released to them by Central Bank of Nigeria.
The Chairman of ICPC also handed over a total sum of N58 million to three federal secondary schools in Ogun State.
The funds is part of the total sum of N103 million fund voted for meal subsidies of students and capital projects in the three schools which was diverted by a Federal Pay officer in Abeokuta, Ogun State, according to ICPC.
Federal Girls College Shagamu, Federal Science and Technology College, Ijebu Imushin and the Federal Government College, Odogbolu received N28 million, N8 Million and N20 million respectively through their principals during the occasion.
Nta vowed ICPC would recover the whole diverted amount and hand them back to the owners as the anti-graft agency continues its investigation.
"The successes achieved so far are hinged on the prompt reporting by the ministries and agencies of government especially by their permanent secretaries, and of course the balanced reporting by the media.
"ICPC will continue to recover looted public finds and other proceeds arising from criminal activities linked to corruption investigations and return same to government coffers or to the victims in line with our mandate," said Nta.
On the bailout funds, Nta said, "We understood that the bailout funds released to states by the Federal Government have not been going towards the proper channel. It is important to state here today that the bail out is from the Federal Governmet to the states to assist them in paying the salaries of workers.
"We will from now on be following how the funds are disbursed in different states to ensure that they get to the appropriate beneficiaries. This is because it is government funds.
The funds stolen from the Ministry of Environment was part of funds voted by the government of Nigeria for addressing the problem of desert encroachment in 11 northern state as well as promoting agriculture in the state.