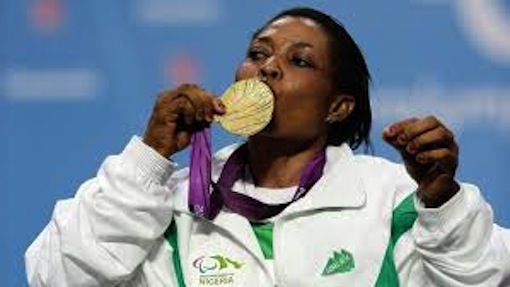 Team Nigeria have once again put the name of the country on the world map setting a new world record in powerlifting.
Esther Onyema on Wednesday at Stade Ornano broke her own African record in 126kg to set a new African and world record in 55kg when she lifted 133kg.
The athlete was the cynosure of all eyes at the games venue when she set new record at each of her lift before she finally set the world record.
Also, Anthony Ulonaan won silver in 59kg when he lifted 190kg and Lucy Ejike picked bronze in 61kg lifting 137kg.
With this result,Team Nigeria are leading with 4gold ,2silver and 1bronze medal followed by Egypt with 2gold and 2silvet medals in powerlifting.
The head coach Feyisetan Are stated that he is happy with the results so far. He adviced Ejike who won bronze to be more focused and trained very hard ahead of future engagement.
Action continues Thursday with events in 72kg,73kg and 80kg.
It would be recalled that Yakubu Adesokan set a new world record Tuesday in 45 kg when he lifted 182.5kg.

Load more