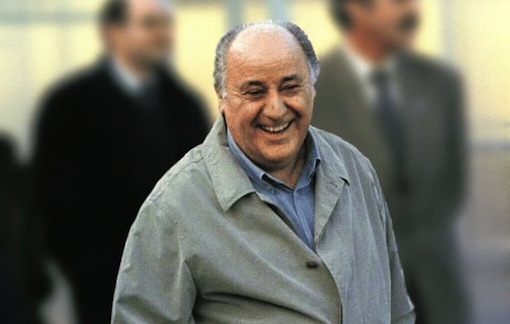 Spain's fast-fashion king Amancio Ortega has added $3.7 billion to his personal fortune after Inditex SA, the world's largest clothing retailer, announced brisk sales, sending shares up 6 percent. Sanford C. Bernstein analyst Jamie Merriman said the company results were strong and show a "stellar start" to the quarter.
Ortega, who passed U.S. investor Warren Buffett as the world's second-richest person in June, is $9.5 billion away from leapfrogging Microsoft founder Bill Gates as the world's richest person, as of mid-day trading in New York, according to the Bloomberg Billionaires Index.
Ortega began building the Spanish fashion empire with his siblings and soon-to-be wife in 1963, making women's bathrobes and other clothing in their home in northern Spain. He opened the first Zara store in 1975 and created Inditex a decade later. Its initial public offering was in 2001 and since then, Ortega has collected more than 4 billion euros ($4.5 billion) in dividends, investing much of it in commercial properties in major U.S. and European cities.
Those real estate holdings amount to about $8 billion of his net worth, with Inditex making up more than $63 billion. Ortega has risen from the world's seventh-richest person since March 2012, when the Bloomberg index debuted and his fortune was at $38 billion. Gates had $62.5 billion in March 2012 and passed Mexico's Carlos Slim to reclaim the world's richest person spot in May 2013 when Microsoft hit a five-year high. Microsoft was up about 0.4 percent at 2:10 p.m. in New York, giving Gates a fortune of around $80.6 billion. Ortega has $71.1 billion.
The second-richest person in Spain is Ortega's daughter, Sandra Ortega-Mera, who inherited her 5 percent stake in Inditex when her mother died in August 2013. She has a $7.2 billion fortune after the Inditex rise.
Research for the post is derived from Bloomberg Billionaires Index data, which updates its daily rankings every business day at the close of trading in New York.
Amancio Ortega Gaona attends the International Monte-Carlo Jumping at Port Hercule on June 26, 2014 in Monaco, Monaco. Photo: Pascal Le Segretain/Getty Images