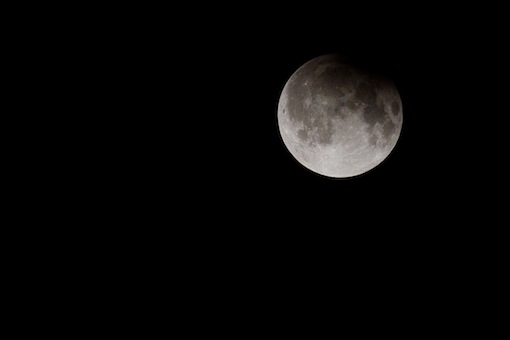 The National Space Research and Development Agency (NASRDA) has said that those who missed the chance to view the Monday lunar eclipse will have to wait till 2033 for another opportunity to view it.
Dr Benjamin Ayantunji , the Desk Officer ,Eclipse and Astrology NASRDA, who spoke to the News Agency of Nigeria (NAN) on Tuesday in Abuja, said that the particular eclipse was a rare astronomical phenomenon .
Ayantunji said "lunar eclipse is an astronomical event that occurs when the earth comes in between the sun and the moon and the earth cast its shadow on the moon".
He said the recent eclipse was a phenomenon because it was a combination of a full moon and eclipse.
He said the occurrence produced a moon that appeared slightly bigger than usual and had a reddish shade, an event known as a super "blood moon".
Ayantunji said it occurred because the full moon coincided with the eclipse, an event that had not happened since 1982, and would not happen again until 2033.
"A super moon occurs when the moon is in the closest part of its orbit to earth, meaning it appears larger in the sky.
"This particular one coincided with a lunar eclipse, leaving the moon in earth's shadow. This event is unique because they do not align often.
"The combination of a super blood moon and a lunar eclipse is a rare occurrence and it takes a while before a total lunar eclipse of any kind can be seen from earth again."
Also speaking, Dr Olufemi Agboola , Director, Engineering and Space Systems said the eclipse was an epoch event that would have remained a memorial.
He said the cloudy weather experienced in some part of the country prevented people from seeing it.
Agboola said FCT residents were disappointed because the cloudy weather and rain that fell prevented them from seeing it, unlike people in other states who were able to see it.
He said it was an experience greatly missed as people only had few pictures to show.
He, however, told Nigerians not to worry as there would be a solar eclipse next year and they would have the opportunity of seeing it because it would be in the day time.
"People really looked forward to seeing the lunar eclipse, but the rain spoilt their plans and unfortunately they will have to wait till 2033 before another one will occur.
"There is nothing to worry because there will be a solar eclipse next year and many people will be opportune to see it," he said.