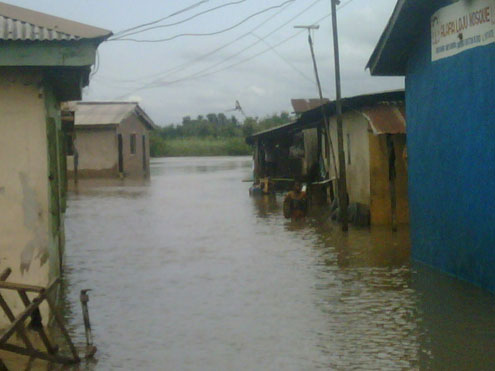 More than 1,220 families have been displaced and 4,501 farms destroyed by flood in some coastline communities in Cross River, an official has said.
Mr Vincent Aquah, the Director General of State Emergency Management Agency (SEMA), made the disclosure in Calabar on Thursday.
Aquah said the flood displaced 686 families in 50 communities in Odukpani Local Government Area, 503 in 16 communities in Biase and 31 in Okpodon Village in Yala Local Government Area.
He attributed the disaster to increase in the water level due to rainfall which ravaged the communities.
He said that the people carried out emergency harvesting of yams, cassava and groundnuts in the areas.
Aquah said crops affected by the disaster were sold at giveaway prices by their owners while some rotted away.
He attributed the frequency of the natural disasters in the state to climate change and said governments at all levels should be properly repositioned to mitigate such disasters whenever they occurred.
Aquah said efforts would be made to provide succour for the affected people and commended the brotherly spirit displayed by neighbours and relatives who graciously accommodated the victims.
The SEMA boss warned people to desist from venturing into any precarious waters to salvage property to avoid drowning.
A community leader in Obum community, Erei North in Biase, Chief-Ukam said the agrarian people of the area were likely to face economic difficulties.
He said crops such as yams, cassava, rice, pepper, cocoyam, vegetables and garden eggs worth several millions of naira were destroyed.
Similarly, the clan head of Umon Island in Biase, Onun Sunday Ijo, said that the flood, caused by the overflow of the Cross River, washed away food crops and damaged several residential and public structures such as schools.
The Chairman of Odukpani Local Government, Mr Bassey Eyo, said that apart from the economic problems posed by the flood, the people were facing health challenges, including cholera, while reptiles, such as snakes and crocodiles, had invaded communities.
The Chairman of Biase Local Government, Mr Ana Enebieni, described the damage as monumental and urged the state and federal governments to intervene.