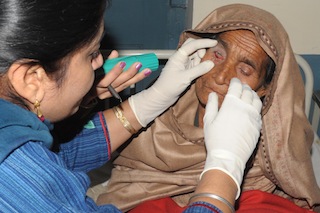 A Consultant Ophthalmologist, Dr Abiola Oyeleye, on Saturday said there were at least 285 million blind and severely vision impaired people in the world and that 90 per cent of them live in developing countries, including Nigeria.
Oyeleye, who is also the Lagos State Chairman of the Ophthalmology Society of Nigeria, told the News Agency of Nigeria (NAN) in Lagos that an estimated 1.13 million Nigerians above 40 years were blind.
He said: "80 per cent of the blindness is avoidable.
"Everyone should endeavour to have eye tests from qualified eye care practitioners like ophthalmologists and optometrists.
"Peoples should not patronise quacks. It is cheaper to have an eye test than to live with blindness,'' he said.
The consultant said that regular eye tests would help to maximise the visual potential of the eyes.
"Regular eye test will help to detect and treat eye diseases such as cataracts, silent and asymptomatic diseases like glaucoma.
"Glaucoma is the second most common cause of blindness worldwide, unfortunately there are no symptoms till the late stages.
"Early detection is the key to successful treatment of glaucoma and the prevention of blindness.
"We can see signs of other diseases affecting the body by examining the eyes, for example hypertension, diabetes and high cholesterol," he said.
Oyeleye said it was important for children to have eye tests as they might be unable to communicate symptoms.
He said that the first eye examination a child would have was at birth, by simply noticing that the eyes were opening well with no opacities or clouding.
"Children may get allergic eye disease as a reaction to dust and pollen in the environment but taking them away from the allergens or vice-versa may solve the problems.
"Children can also have conditions that affect adults such as conjunctivitis, cataracts, glaucoma, iritis, corneal problems among others."
The consultant urged people to visit ophthalmologists who would prescribe eye vitamins rather than taking self-medication.
"Eye vitamins are proven to be beneficial in only a few eye conditions, an example is certain types of age related macular degeneration.
"As a society we appear to believe we all need vitamin supplements to augment our lifestyle but this is not clinically proven."

Load more