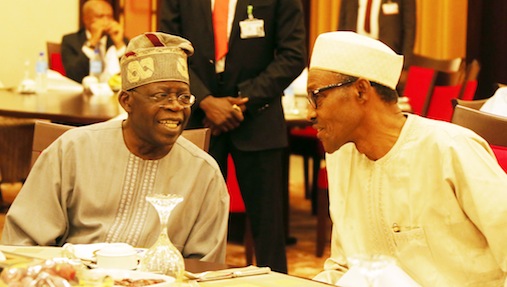 Osun State chapter of the All Progressives Congress (APC) has dismissed reports that a national leader of the party, Asiwaju Bola Tinubu has been placed under security check for scheming against President Muhammadu Buhari.
In a statement titled: "CAUTION! DO NOT HEAT UP THE POLITY" the party also noted that there is no racour between Tinubu and Governor Rauf Aregbesola of Osun over ministerial nominees.
Read full statement below:
Attention of the All Progressives Congress (APC) in the State of Osun, Nigeria, is drawn to the seditious report in Saturday Daily Sun newspaper in which the National Leader of the APC, Asiwaju Bola Ahmed Tinubu is claimed to be under security watch on a spurious claim of plotting against President Muhammadu Buhari.
We do not find any link between the reckless screaming headline, the purported plot against President Buhari and the basis for being under Security Watch.
Taking the issue one by one, democracy is a system that permits liberty of individual actors and freedom of association. It is therefore inconceivable that exercising the inalienable freedom could in any way be interpreted to mean treason.
While not confirming the insinuation peddled by this report of our National Leader romancing with the Senate President, Senator Bukola Saraki; there cannot be a crime should that happen more so, when the two of them are members of the same party.
It is laughable and at the same time worrisome to the extreme with the desperation of the insurgents and the threat they pose to our national stability and the welfare of our citizens for anyone to suggest that our security agencies are not sufficiently occupied enough to be on the trail of a Leader of our party that put everything, including his life, into the formation of our party, emergence of the Presidential Candidate and the ultimate victory at the poll.
It is important to correct a lingering falsehood of a difference between our National Leader and the Governor of the State of Osun, Ogbeni Rauf Aregbesola, on the issue of Ministerial Nominees for the State of Osun. For the avoidance of doubt, Ministerial Nomination and submission of same, if it ever occurred, was the sole responsibility of our National Leader.
At no time did any of our Governors in our region unilaterally submit names of nominees for Ministerial appointments. The question of Ogbeni Rauf Aregbesola unilaterally submitting the name of anybody for ministerial appointment against the submission made, if any, by the leadership of our party in the South West is not only false but grossly mischievous.
We appeal to the media at large to always perform their duties responsibly and guard against anything that can overheat the polity.
This moment calls for patriotism and caution.
Let us grow democracy, promote freedom; enshrine liberty for the peace, progress, development and security of our country, Nigeria.
Kunle Oyatomi
All Progressives Congress (APC)
Osun Chapter, Osogbo

Load more