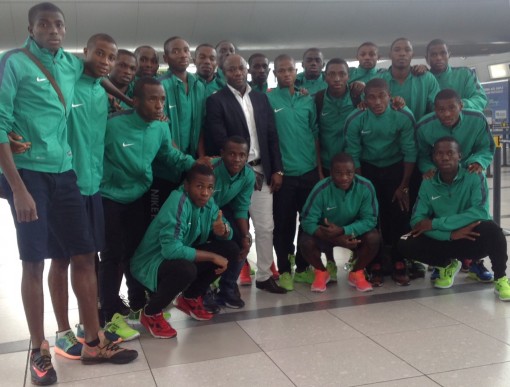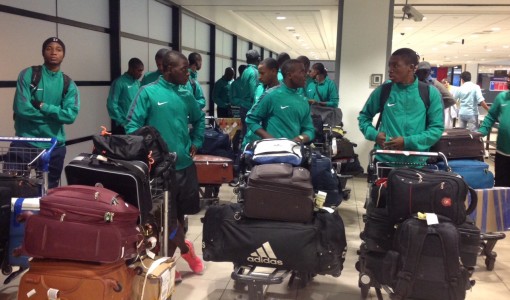 Cup holders, Golden Eaglets of Nigeria, have arrived in Santiago, capital city of Chile as one of Africa's four flag bearers at the 16th edition of the FIFA U-17 World Cup finals, which is to be hosted by Chile between October 17 and November 8.
Nigeria have won the competition a record four times with the last being two years ago in the United Arab Emirates (UAE).
According to the website of Nigeria Football Federation, the defending champions flew into Santiago from their pre-World Cup camp base in Buenos Aires at 8:20pm local time on Tuesday (which is early hours of Wednesday in Nigeria (12:20 am), aboard a Lan Airlines flight.
Speaking to the media on arrival, Coach Emmanuel Amuneke and striker Victor Osimhen were upbeat about the chances of the Eaglets successfully defending the trophy.
"We are here to defend the trophy," said Amuneke. "We are here with new players who want to write their own history and we are looking forward to our first game against the United States of America, which is very important for us."
Osimhen echoed the sentiment of Coach Amuneke, adding that they have been psyched up for the challenges ahead as the defending champions.
"We are here to win," said Osimhen who is Golden Eaglets' top scorer with 39 goals in 71 cumulative international and local matches.
"Just as the coach said, we are here to write our own story as a team and players."
Immediately after dinner at their Double Tree by Hilton Hotel in Santiago-Vitacura, where they are accommodated for their opening match against USA on October 17, Amuneke reminded his wards to focus attention on nothing but football as the team seeks a fifth U-17 world title.
Meanwhile, the Nigeria Football Federation (NFF) has applauded the Embassy of Nigeria in Argentina for rallying behind the Golden Eaglets during their pre-World Cup preparation in Buenos Aires.
Siji Lagunju, Assistant Director (Technical), on behalf of the Federation, said the Nigerian Embassy ably led by Mr. Tiwalade Adelanwa, the Deputy Head of Mission, contributed immensely to the Golden Eaglets' successful stay in Buenos Aires.
Lagunju said that the embassy staff particularly Mr. Elekwachi Ndubuisi, Mrs. Felicia Ezeorah and Mr. Abolaji Olawunmi were very impressive in the discharge of their duties.
"I want to use this opportunity to thank the Nigerian Embassy officials here in Argentina. We were well received right from the first day, they were hospitable like true Nigerians.
"It was great the NFF brought us to Buenos Aires Football (BAF) to prepare for the World Cup which is a conducive environment that allows for maximum concentration. We are equally very grateful to the staff of BAF and the liaison officials from Eurodata, Juan Partricio who were also wonderful during our stay in Buenos Aires, " said Lagunju before the team left Argentina.

Load more