World Boxing Organization (Africa) Super Middleweight champion, Isaac Ekpo, has enlisted the service of one of Nigerian great boxers, Bob Alagoro as he prepares for the 10-round international Super Middleweight Challenge during the fourth edition of GOtv Boxing Night on Sunday, 25 October.
The Nigerian former Olympian is scheduled to take on Jules Kabore of Burkina Faso in the star bout of the night put together by Flykite Promotions with the sponsorship of pay-TV company, GOtv.
The Nigerian Army pugilist told PM News that in his bid to win this fight, he has to bring on one of the best trainers in Nigerian professional boxing today, Bob Alagoro, a former national and West African Super Middleweight champion.
According to Ekpo, a Commonwealth Super Middleweight champion, Alagoro was his role model when he was growing up. He stated that he believes that Alagoro, who was an undisputed champion during his active days, would be a good hand at his corner during his fight with Kabore.
"I remember that I had to walk the distance to watch Bob when he was fighting in those days at the National Stadium, Surulere, Lagos. To be honest, I saw this as a rare privilege to have him as my trainer today. I'm really so glad when he accepted my offer. He wass a skillful boxer in his days and he happened to be a champion in my weight category," Ekpo said.
The boxer who is expected to storm Lagos on Thursday, 15 October to begin an intensive training ahead of GOtv Boxing Night said he would be physically and spiritually ready for the Burkina Faso's champion because his opponent has been a very good boxer of high repute.
"I have been sparing 12 round a day since the fight was fixed. By the time I get to Lagos, Bob Alagoro and my other coaches will take up my training in full blast.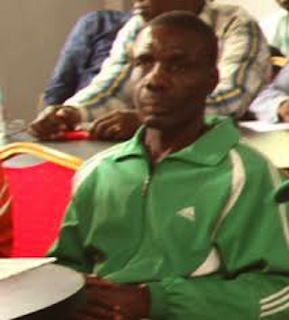 "I have more experience than Kabore because he has not been on the world stage. I will fight him with my 'soldier mentality' and I strongly believe that with the home support victory will be mine. I know one thing for sure that Kabore won't last four round of the 10-round contest," Ekpo boasted.
Also lined up on the Night are the six-round duels which will see Jamiu "Naval Man" Olabode take on Pelumi "Haggler" Sodubi in a Welterweight challenge, while Stanley "Edo Boy" Eribo will duel with Isiaka "Easy Lion" Yusuf.
In the Lightweight category, Prince Nurudeen Fatai, national champion, will fight Otto "Joe Boy" Joseph. Fijabi will take on Saheed "Happy Boy" Olayiwola in a Light welterweight challenge bout.
Waidi "Skoro" Usman, West African Featherweight champion, will fight Taofik "Toazon" Bisuga in a national featherweight challenge.
Meanwhile, boxing fans who wish to attend the fourth edition of the GOtv Boxing Night have been assured of adequate protection form harassment and intimidation in and around the Indoor Sports of the National Stadium in Lagos.
Jenkins Alumona, the Managing Director of Flykite Promotions, promoter of the event, said fans have nothing to worry about when they come for the event.
Alumona said: "We have made adequate arrangements to ensure that fans are not harassed. "We have KSquare Security, an accomplished security firm and partners to the event, providing security. In addition, this edition will start earlier than the previous ones to ensure that it ends earlier for people to get home in good time."

Load more