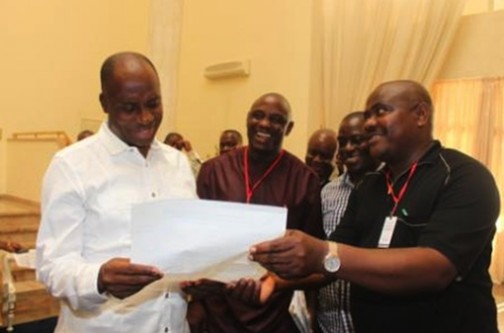 Okafor Ofiebor/Port Harcourt
The Rivers State Chapter of the All Progressives Congress (APC) has described former Governor of the state, Chibuike Rotimi Amaechi, as the best possible choice for ministerial appointment from the state and that President Muhammadu Buhari was on point for nominating him.
"Going by his antecedents, Rt. Hon. Amaechi will be an asset to the Buhari Administration and also a strong voice for Rivers State as a Minister of the Federal Republic of Nigeria," Rives APC said in a statement signed by the Chairman, Dr. Davies Ibiamu Ikanya, and issued Friday in the state capital, Port Harcourt.
The party said it was eagerly looking forward to the confirmation of Amaechi's ministerial nomination by the Senate on Tuesday.
"Judging Amaechi by what he achieved as governor of Rivers State – from education to proper management of the state's resources, road construction, agriculture, security, tourism, transport, commerce, human development, etc – one can safely conclude that when he becomes a minister, Amaechi will do everything humanly possible to protect the interest of Rivers State and improve the lot her people," the party said.
The party also noted that as a minister, Amaechi would have all the 36 states of the country and Abuja as his constituency.
It assured that "while he will not allow what is due to Rivers State and her people to elude them in any form, Amaechi as a first class patriot will fully collaborate with other members of the Federal Executive Council to make a big difference in the Buhari administration and thus take Nigeria out of the woods in which it has found itself as a result of 16 years of visionless administration by the Peoples Democratic Party."
The party berated the State Governor, Chief Nyesom Wike, for opposing Amaechi's ministerial nomination and working hard to scuttle its actualisation.
"We are confident that wise counsel will prevail and the patriotic men and women that constitute the Nigerian Senate will ignore Wike and his machinations and confirm Amaechi on Tuesday since Wike's opposition is based solely on selfish reasons and his desire to prove that he can pull down the man who brought him out of obscurity and gave him the platform to become whatever he is politically today," the statement said.
Former Governor Amaechi who was the Director-General of Muhammadu Buhari campaign organization and nominated as minister has been facing stiff opposition by a group called Integrity Group believed to be acting a the behest of the Rivers State government and the Rivers Peoples Democratic Party, PDP.
His screening by the Senate was deferred from the two batches of ministerial nominees over allegations of corruption which Amaechi has consistently denied and said his accusers have refused to forgive him for championing the Presidency of Muhammadu Buhari as against former President Goodluck Jonathan, "son of the soil".

Load more